By David Lee Simmons, Georgia Online News Service
For years the
Leo Frank
murder case and lynching had been seen through its more obvious prisms of racism, anti-Semitism, class, socioeconomics and crime. For decades historians have sifted through Frank's conviction for the 1913 rape and killing of Mary Phagan, the 13-year-old girl who worked at the Atlanta Pencil Factory that Frank managed.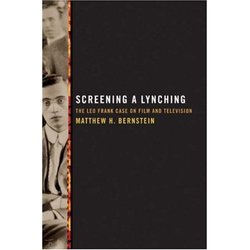 The story's legend was cemented with his death-sentence commutation courtesy Georgia's outgoing governor and Frank's subsequent lynching in Marietta after being kidnapped from a Milledgeville prison. It became the source of countless writings. But even just a few years after the publication of what many believe is the definitive examination of the case, the story remains compelling with issues yet unexamined. Emory film professor Matthew Bernstein deftly proves this with his exploration of the case through the media lens, so to speak, with
Screening to a Lynching: The Leo Frank Case on Film and Television
(University of Georgia Press)
.
Because Frank was a Jew, his lynching owns the dubious distinction of inspiring both the birth of the Anti-Defamation League and the rebirth of the Ku Klux Klan. A lynching is a voyeuristic endeavor unto itself, and so it would seem fitting that Bernstein would go where no other historian has gone before in his look at four films about the case: Oscar Micheaux's 1935 "race" film
Murder in Harlem
; Mervyn LeRoy's 1937 film,
They Won't Forget
; a 1964 Profiles in Courage TV episode
Gov. John M. Slaton
; and a 1988 TV miniseries,
The Murder of Mary Phagan.
Bernstein's analysis finds almost as many compelling aspects about the various cinematic interpretations of the Frank case as the case itself, his sleuth's curiosity like that of a police detective.
Maybe it's because, in their own respective ways, these films are as much underdogs as Frank.
Murder in Harlem
, which told the case from an African-American perspective, suffers mightily from cheap production value, near-woeful acting, stilted dialogue and a Micheaux's trademark reliance on flashbacks. Yet Bernstein is able to drill down to the film's inner charms, including an appreciation for Micheaux's development of a strong black female character (who practically solves the case herself).
The Frank case, on film, took on more fact-based dimensions over the years and Bernstein capably keeps pace in his analysis. Fortunately,
Screening to a Lynching
doesn't get too bogged down in the historical aspects of the case, thanks in no small measure to Steve Oney's definitive 2003 book,
And the Dead Shall Rise
. Instead, Bernstein lays out the basic history of the case in the first chapter. This frees him up to spend the rest of the book comparing and contrasting historical record with the "fact-based" versions.
This approach helps the reader pay particularly close attention to the evolution of the key figures of the case, the most interesting being that of Jim Conley. The black janitor has become a prime suspect over the years, thanks to new evidence and testimony as recently as the 1980s, and his role in film has shifted over time accordingly. So it's intriguing to have Bernstein point out how in
Murder in Harlem
, the janitor character is a shucking-and-jiving stereotype who in Micheaux's eyes is a discredit to his race. But in
They Won't Forget
, the character is a sympathetic innocent who fears he might be framed.
By the time we get to 1998's Emmy-winning
The Murder of Mary Phagan
, Conley and practically every other character has become more sophisticated with the times.
Just as the miniseries tried to tell the story in all its complexity, so does Bernstein try to show whether all that effort pays off. Indeed,
The Murder of Mary Phagan
feels like the culmination of a docudrama evolution that began with Micheaux's movie. It's blessed with supreme production value and cast for a TV work (mainly, as Bernstein notes, to compete with the burgeoning cable efforts over at HBO), thanks to stars like Jack Lemmon and future stars such as Peter Gallagher, Kevin Spacey and Cynthia Nixon.
It also benefited, somewhat, from time; its 4-hour length afforded the filmmakers a chance to offer a more sympathetic portrayal of an Atlanta that heretofore had been stereotyped into submission for its bigotry and vindictiveness. Bernstein dutifully chronicles these efforts but also gives voice to the show's critics, most of whom were local and related to those who believed in Frank's guilt.
But Bernstein also quotes the late Atlanta Journal-Constitution legend Celestine Sibley, who, besides laughing at the portrayal of Atlanta, also seemed perplexed by the "drama" side of the docudrama. "It should have been offered as either fiction or fact," Sibley complained.
Because of Sibley's journalistic background, she was perhaps foreign to "the uncertain status of the historical docudrama as a form, its allegiance to historical accuracy, and the parameters of its fictional conventions," Bernstein writes.
But, like
The Murder of Mary Phagan
, Bernstein's book is not without faults. In some ways, they're quite similar: well researched, respectful and relatively unbiased works. Yet Bernstein might have paid heed to the critics' problems with the show, which at its worst plodded along and felt more didactic than electric. It's one thing to avoid sensationalism, still another to avoid energy altogether.
Screening to a Lynching
sometimes suffers the same fate -- painstaking but more academic than it might need to be even if penned by a scholar of Bernstein's level. He previously authored the critically acclaimed film books
Controlling Hollywood: Censorship and Regulation in the Hollywood Era
and
Walter Wanger: Hollywood Independent.
The turn of the previous century was not kind to Atlanta, which gave way to a race riot and the dual Phagan/Frank injustices. If
Oney's And the Dead Shall Rise
helps set the record straight on that infamous crime, then Matthew Bernstein helps explain the cinematic response to it as well.
Actually, the biggest problem with
Screening to a Lynching
has nothing to do with Bernstein as it is the relative unavailability of the movies in question. After reading this book and not being able to readily watch them courtesy of a visit to the video store or Netflix, you can't help but think, damn, that's a crime.
According to Bernstein,
Murder in Harlem
is only available as part of a set of DVDS from the Tyler Film Collection at Southern Methodist University, for $50. Visit
here
. They Won't Forget is not available in any format of home video, but sometimes plays on Turner Classic Movies and might be available on eBay.
Profiles in Courage: Governor John M. Slaton
can be bought from Social Studies School Service for $29.95. Visit
here
.
The Murder of Mary Phagan
is no longer available for sale on home video, Bernstein notes. It only existed on VHS. Again, try eBay.

This article originally appeared at Georgia Online News Service.