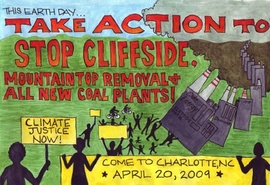 For three years, Duke Energy claimed that the new 800-megawatt coal-fired power plant it's building at its Cliffside facility in western North Carolina would emit 217 tons of hazardous emissions annually, including mercury, arsenic and dioxins.
But after coming under legal pressure from environmental advocates to better control the pollution, the company's attorneys revised their emissions estimate to just 24 tons -- one ton less than the cutoff point separating major pollution sources required to perform an analysis of the best ways for controlling those emissions from minor sources not required to do the analysis. Nothing in the proposed design of the plant changed to explain the reduction in estimated pollution.
Nevertheless, North Carolina regulators accepted Duke's suspiciously revised numbers and issued a permit for the plant last week.
"Duke's numbers games don't add up and don't change the fact that Cliffside is a major source of dangerous toxic pollutants,"
said
Derb Carter of the Southern Environmental Law Center, one of the groups that sued Duke over the plant's pollution. "Deciding a huge coal-fired power plant is a minor source of hazardous pollutants is like calling the New York Yankees a minor league team. Duke's sleight of hand tricks put the health of our citizens at risk."
Duke Energy Chairman and CEO Jim Rogers
defends the permitting decision
as appropriate since the new plant will allow the company to shut down older and even more polluting coal-fired units.
Following the decision by the N.C. Division of Air Quality under chief Keith Overcash, Gov. Beverly Perdue issued a
statement
saying she opposed the licensing of the Cliffside facility by the administration of her predecessor, fellow Democrat Mike Easley. She promised to be "very vigilant" in assuring Duke lives up to the terms of the permit.
But Perdue's statement was blasted by the Canary Coalition, a clean-air advocacy group based in western North Carolina. The organization recently
petitioned
the state Attorney General and U.S. Department of Justice to probe North Carolina regulators' dealings with Duke Energy to determine whether "ethical or legal boundaries" have been crossed. That request came on the heels of a
report
that documented the company's massive political contributions to key state officials.
"This plant is unnecessary, unlawful and a burden on public health and the environmental," the group's director, Avram Friedman, said in response to Perdue. "You have the power and obligation to stop it."
The Canary Coalition is among a number of organizations planning a mass rally and nonviolent civil disobedience aimed at stopping construction at Duke's Cliffside plant. The event is scheduled for Earth Day, April 20 at Duke Energy's corporate headquarters in downtown Charlotte, N.C. For more details, click
here
.