Predatory payday lenders target Black and Latino communities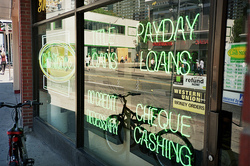 As the misdeeds of major financial institutions continue to make the headlines, it should be no surprise to find out the many ways people have been cheated by financial institutions at the community level. The controversial practice known as "payday lending" is one of the most egregious examples. The process gives cash-strapped consumers an advance — with exorbitant interest rates — on their paychecks. For years consumer advocates have pushed for more regulations on the payday loan industry, arguing that these firms are in fact predatory lenders that trap the working poor in a cycle of debt.

Now a new study released today by the North Carolina-based research nonprofit Center for Responsible Lending found that race and ethnicity is the leading factor in determining payday lender locations. In essence that means minority communities are the largest targets of these predatory lending operations.

Payday loan stores are nearly eight times more concentrated in California's African-American and Latino neighborhoods as compared to white neighborhoods, draining these communities of some $250 million in payday loan fees annually, according to the new CRL study. Even after accounting for factors like income, education and poverty rates, CRL still found that these lenders are 2.4 times more concentrated in African-American and Latino neighborhoods.

Putting a cap on the industry

The payday lending firms claim they are providing a needed, short-term service to the working poor. But studies have shown that every year payday lenders strip $4.2 billion in excessive fees from Americans who think they're getting a two-week loan and end up trapped in debt. Borrowers end up paying more in interest - at annual rates of 400 percent (about 20 times the highest credit card rates) - which is much more than the amount of the loan they originally borrowed.

The good news is that state legislatures across the country are taking steps to regulate payday loans; hundreds of bills pertaining to such lenders have been introduced in more than 30 states in the past two years. In all, fifteen states and the District of Columbia have either capped rates leading to payday lenders shutting their doors or banned them outright.

In fact the South has led the charge in cracking down on the $28-billion industry. Georgia and North Carolina have already banned the practice. States like Virginia have passed reforms that help borrowers. This week Kentucky Governor Steve Beshear signed into law a ten-year moratorium on new payday lenders in the state. State legislatures in Texas have filed legislation that would mean greater transparency in the lending industry, cap interest rates at 36 percent, and close loopholes in state law that allow lenders to bypass tighter regulation. An intense battle is currently taking place in the South Carolina over reform legislation.

One long-term solution, consumer advocates like CRL argue, is for stronger federal legislation that would put a 36 percent cap on interest rates, which is the same cap that Congress already has in place for military families. A bill with a 36 percent cap has been introduced in the U.S. Senate (S500) and House (H.R. 1608), and would not prohibit states from instituting their own caps.