The medical crisis in immigration detention
By Cheryl Little, New America Media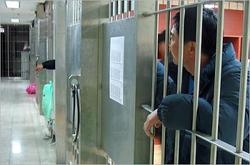 Hiu Lui Ng suffered cruel and negligent medical care while in Immigration and Customs Enforcement (ICE) lock-ups. He died last year from a cancer that went undiagnosed for four months despite his repeated complaints of excruciating pain.

A recent ICE investigative report describes his brutal treatment. In one videotaped incident, Ng was forcibly dragged by detention officers while he cried and screamed in pain. Detention officials denied him medication, medical care and a wheelchair when he was too weak to walk. They cursed at him and accused him of faking his illness.

This is no way to treat a human being. Yet increasingly we are seeing such medical abuse among ICE detainees nationwide. While Ng's case may be extreme, instances of botched, delayed or denied medical care are all too common.

Many examples are documented in two new reports by the Florida Immigrant Advocacy Center and Human Rights Watch. Both describe systemic problems in ICE detention. Among the top concerns is the lack of independent oversight needed to ensure the quality and effectiveness of care. Within this oversight vacuum, ICE tolerates a culture of cruelty and indifference to human suffering.

The U.S. now has the world's highest incarceration rate, and ICE detainees are its fastest growing prison population. ICE expects to detain 440,000 people this year - four times the number in 2001 - with taxpayers paying the $1.72 billion tab. Some two-thirds of the detainees will be held in more than 300 local jails with widely differing conditions and medical practices. Others will land in 15 large facilities run by ICE or private contractors.

Given the explosive growth in detainees and patchwork of detention facilities it's no wonder that oversight is a problem. To its credit, ICE ultimately removed all its detainees from the Donald W. Wyatt facility where Ng was mistreated.

Had ICE taken similar action at the Piedmont Regional Jail in Virginia after a death there in 2006, Guido Newbrough might still be alive. Instead, Mr. Newbrough died in November 2008 from a heart-valve infection that three out of four people survive when properly treated. In his case, the infection ravaged his organs as jail staff ignored his complaints. When he finally pounded on the door of the lunchroom crying for medical help, jail guards threw him on the floor, dragged him, and put him in isolation. He died five days later.

Two years before, another detainee had died at the same jail. An ICE investigation concluded with a damning assessment: "Detainee health care is in jeopardy." Yet the ICE failed to take corrective action or to remove detainees. Now ICE is conducting another investigation at Piedmont.

Deaths are not the only problem. Staff shortages and denials of care lead to life-threatening conditions. Miguel Bonilla, a FIAC client, complained of increasingly intense abdominal pain for a week and repeatedly asked for a doctor. Nurses gave him Pepto-Bismol and salty soup. No doctor was available. A ruptured appendix almost killed him. He spent 11 days in a hospital while his family was denied visits, phone calls and information about his condition.

Other concerns abound. Instead of being treated, mentally ill detainees are maced, Tasered, and placed in isolation as punishment. Detainees are misdiagnosed or go untreated because of incompetent or nonexistent interpreters. Physically disabled detainees suffer without accessible facilities. Sick detainees are shackled going to the hospital and placed in criminal wards. Women in detention struggle to get potentially life-saving services such as Pap smears and mammograms. Even basics such as sanitary pads and breast pumps for nursing mothers are in short supply.

Perhaps most troubling is the culture of cruelty. Detainees routinely are accused of faking their illness and treated like criminals when the when the vast majority have no criminal history and pose no threat. We don't know if this occurs because they are foreign, imprisoned, have no lawyer to defend them or all of the above. We do know that ICE is not fulfilling its moral and legal responsibility protect the welfare of detainees who have no other recourse for medical care.

Department Of Homeland Secretary Janet Napolitano has appointed Special Advisor Dr. Dora Schriro to look into these concerns and other detention issues. We are hopeful that the new administration is serious about providing ICE detainees proper and humane medical care and look forward to collaborating in the effort.

For more information please check out:

• Florida Immigrant Advocacy Center report: Dying for Decent Care: Bad Medicine in Immigration Custody

• Human Rights Watch report: Detained and Dismissed: Women's Struggles to Obtain Health Care in United States Immigration Detention

Cheryl Little is executive director of the Florida Immigrant Advocacy Center, a non-profit agency that promotes immigrants' rights. Copyright © New America Media.