By Anthony Advincula, New America Media
NEW ORLEANS -- When Juan Carlos Ramos met with U.S. Census Bureau officials last Friday in the Warehouse District, he had no qualms about expressing his dissatisfaction with past census results, pointing out inconsistencies in population count and ineffective means of reaching out to minorities.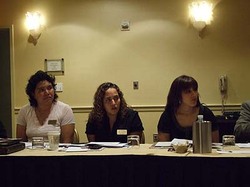 Raised in the city's West Bank district, Ramos, the publisher of Spanish-language El Tiempo New Orleans, said that even before Hurricane Katrina hit the city, the U.S. Census Bureau had already undercounted its population, particularly members of the Latino community.
After Katrina, the effort is far more challenging.
"In 2000, the census showed that there were 34,000 Latinos in New Orleans. But at the Honduran consulate, the record of Honduran immigrants alone was 90,000 for the same year," Ramos said, airing his concerns at a news briefing with about 40 other ethnic media representatives and community leaders.
Because starkly different population figures were released in recent years, Ramos said that most New Orleans residents are confused and don't know which figures to believe. "We didn't do a great job," he said, alluding to what he claimed were inaccurate census results. "I'm a partner here, but I'm disappointed about it."
But Arnold Jackson, assistant director for the decennial census, affirmed that the Census Bureau "has been trying its best" to address the counting discrepancies in New Orleans and the entire Louisiana state for the 2010 census. The Bureau, he said, has begun deploying census workers to collect data about all known streets and roads nationwide.
For the first time in decennial census history, he added, the "listers" -- workers who canvass neighborhoods -- will confirm, add, and delete addresses using hand-held computers equipped with Global Positioning System (GPS). Each computer will only work when activated by the fingerprint of its assigned operator. Each building or structure will receive GPS coordinates to make sure it is recorded in the right location.
"This is going to be the most remarkable census ever, not only because of its accuracy, but it is also going to be cost-effective," he said. "There will be 7,000 census workers in different communities in New Orleans, and about 140,000 workers in the country."
Tens of thousands fled New Orleans in the wake of Hurricane Katrina in 2005. Since then the city experienced a dramatic influx of immigrants drawn to its reconstruction boom. Overcoming the hurdle of getting everyone counted in New Orleans is far more difficult than in any other city in the country.
The bureau plans to send direct-mail forms, interview locals on the status of their neighbors, and canvas places where people normally go to - gas stations, churches and schools.
To reach out to immigrants and minorities, the bureau plans to convene with ethnic media in several cities across the country so that they can inform the communities they serve about the upcoming census. Attended by different ethnic groups, including Honduran, Vietnamese, Mexican, Caribbean, Filipino and African American, New Orleans was the first city to host one of these meetings.
The forum allowed media member to voice their concerns.
"What about the returnees? How do you make sure you include them but not double the counting?" asked Vincent Sylvain, publisher of New Orleans Agenda, an online newsletter that targets an African-American audience.
With old-time residents who used to live in places that were badly ravaged by Katrina, like the Ninth Ward, Sylvain said that the people may have returned but are not currently living at their old addresses anymore.
Jeff Behler, deputy regional director for the U.S. Census Bureau in Dallas, Texas, recognized the crucial role of ethnic media in carrying out a successful census. "We need the help of ethnic media. We will not be able to do this by ourselves. Otherwise, we will fail. We need your participation."
He added that the bureau is willing to hold one-on-one sessions with ethnic communities, especially those who have difficulty filling out forms because of language and literacy issues. "We will make them understand," Behler said.
"We're recruiting people who are from the community and know that community. We have also asked the assistance of parishes," said Raul Cisneros, director of media relations for the U.S. 2010 census. "These recruiters know their neighbors -- who has left, who has stayed and who has returned. And, they know how to speak their language, too, if not English."
But what about the undocumented immigrants who are not willing to talk to government officials, thinking that they will put their families in harm's way if they give out personal information?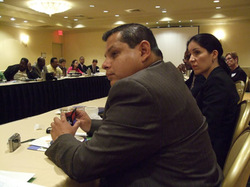 "They are afraid. They are not willing to talk. Some of us are bilingual, but 87 percent of the Latinos in New Orleans only speak Spanish," said Brenda Murphy, editor-in-chief of Jambalaya News, a Spanish-language weekly. "But the most difficult thing is that they feel that this is about immigration."
Murphy said that Latino immigrants, at least in New Orleans, perceive governmental campaigns and programs with apprehension and fear that the data collected will be used against them. "We need to build trust in the community," she said.
"I think that sending out forms in the mail is a bad idea. If most undocumented immigrants do not want to talk to a live interviewer because they feel that they will be deported, I don't think they will respond to a piece of paper. They can just easily ignore it," said Azucena Diaz, producer and reporter for Telemundo 42. "I hope it is not a waste of time."
For Leon Coleman, publisher of Alexandria Weekly News, one of the reasons that the bureau has been unsuccessful in disseminating information to ethnic communities is that it only places advertising in mainstream publications. Many people in his community, he said, read ethnic publications for more local news.
"We lack a partnership with U.S. Census Bureau because you only [expect] free ads. This is disheartening for small papers like us who struggle but are here to help spread the information about the census," Coleman told the census officials. He traveled with his wife, Alice, for four hours just to be at the meeting.
Cliff Robinson, president of GNO Communications, concurred. He said that the only way ethnic media can survive the economic meltdown is through advertising dollars. If the census officials expect smaller publications to publish ads pro-bono, he said, there is clearly an absence of partnership.
"You don't shoot us in the foot before the race," Robinson said.
In the coming months the U.S. Census Bureau officials will meet with ethnic media in Seattle, Detroit, Atlanta, Los Angeles, Boston, and Nashville.
New America Media and the U.S. Census Bureau are hosting meetings with ethnic media across the country as part of a national campaign leading up to the 2010 census.Copyright © New America Media