CULTURE BEAT: New Orleans film fest shines a light on social justice
If you're in New Orleans this weekend, it's not too late to check out Patois, the
6th annual New Orleans International Human Rights Film Festival
, which kicked off last week and will run through this Sunday, April 5th.
The festival shines a light on human rights issues and explores the struggle for social justice both in Louisiana and across the nation and globe. This year, Patois brings more than 50 films, eight world premieres and 20 filmmakers together in workshops, screenings and panels.
Tying the local to the global, and arts to human rights, the 5-year-old festival was founded by New Orleans-area artists and activists as a community-building project. "We are dedicated to nurturing our city's human rights community, supporting the work of local organizers and organizations involved in these struggles, and providing a forum for artistic expression of local and international issues," reads the festival's mission statement.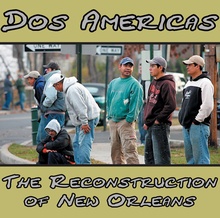 One film that will be premiering this Sunday is "Dos Americas: The Reconstruction of New Orleans," a documentary on the Hispanic laborers who migrated to New Orleans to help rebuild the Gulf Coast following Hurricanes Katrina and Rita in 2005.
From the Dos Americas
site
:
Post-Katrina reconstruction is still in progress throughout the Gulf Coast, with much of the City of New Orleans still in ruins. This documentary focuses on those rebuilding this city through interviews with some of the estimated 100,000 Latino migrant laborers who have converged in this area over the past two and a half years. Despite terrible working conditions, massive fraud, a housing crisis, severe harassment by law enforcement, and very limited resources, New Orleans' Latino community has mushroomed since the storm and is establishing an infrastructure proportional to its size.

Take a look at how this community is organizing to defend itself against numerous injustices and the attempts to bridge the gap between themselves as new residents and the pre-Katrina population, all within the context of the extremely unique and tragic context of post-Katrina New Orleans.

A trio of films showing this Saturday deal with housing rights, an issue very important to Gulf Coast residents still struggling to rebuild. April is Fair Housing Month, and the
Greater New Orleans Fair Housing Action Center
partnered with Patois to show three short films about the struggle for recognition of housing as a human right. "
Some Place Like Home
," narrated by writer and activist Kevin Powell, depicts the fight against the exclusion of low-income families and small businesses from the "new vision" for developing Fort Greene and Downtown Brooklyn. "St. Joe" brings the story back to New Orleans as local filmmaker Luisa Dantas explores the contentious destruction of New Orleans' public housing.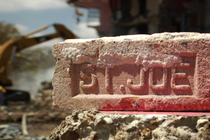 From the Patois
site
:
St. Joe is visual dirge for "the bricks," the new deal-era public housing buildings that were at the center of a two-year contentious battle over the right of return for those displaced by Hurricane Katrina. St. Joe is a memorial tribute to the architectural achievement that the structures represented and the families and communities that occupied them. In ten minutes it traces the buildings in their silent waiting period until spring 2008, when bulldozers arrived to reduce them to rubble. Former residents and housing advocates alike acknowledge that life in the bricks was not perfect, but as is the case for any community, it was home.

For more information about the festival visit:
http://PatoisFilmFest.org