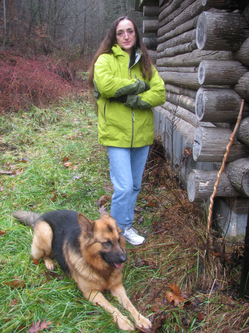 Born 40 years ago in Boone County, W.V., Maria Gunnoe grew up in a mountain hollow her ancestors settled in the early 19th century after the forced removal of their Cherokee people from Georgia. Part of a long line of coal miners, Gunnoe now lives on land her coal miner grandfather bought in the 1950s -- land now threatened by an environmentally destructive type of coal mining known as
mountaintop removal
.
In 2000, a mountaintop removal mining operation got underway on the ridge above Gunnoe's home. Since the mine opened, her property has flooded seven times. One flood in 2004 covered her property in coal sludge, destroying her home and poisoning her well.
The experience turned Gunnoe, a medical technician by training, into an environmental activist. She began volunteering with local groups and eventually went to work for the
Ohio Valley Environmental Coalition
, a Huntington, W.V. nonprofit that works to protect Appalachia's natural heritage. In 2007, she testified in a federal lawsuit challenging mountaintop mining removal permits issued by the U.S. Army Corps of Engineers, winning an injunction mining company Jupiter Holdings. She's now working for the passage of the
Clean Water Protection Act
, a federal law that would discourage mountaintop removal, and for greater renewable energy opportunities for Appalachia.
Gunnoe's work has made her life difficult, to say the least. Mine managers have encouraged their workers to harass her, and "wanted" posters featuring Gunnoe's photograph have appeared in local convenience stores. Her life has been threatened, her children have been harassed at school, and someone shot and killed a family dog.
For persevering in the face of such adversity, Gunnoe was named one of the recipients of this year's
Goldman Environmental Prize
, announced every April to coincide with Earth Day. Created in 1990 by San Francisco civic leaders and Levi Strauss heirs Richard N. Goldman and his late wife, Rhoda H. Goldman, the $150,000 prize annually honors grassroots environmental heroes from the six inhabited continental regions of Africa, Asia, Europe, Islands and Island Nations, North America, and South and Central America. Past recipients include Wangari Maathai, the founder of Kenya's tree-planting movement who went on to become the first environmentalist to win the Nobel Peace Prize, and Marina Silva, a Brazilian who led the movement to protect the rain forest before going on to become the youngest senator in her nation's history.
Gunnoe's award comes at a critical time in the movement against mountaintop removal mining. Last month the U.S. Environmental Protection Agency
announced
its intent to review permits for mountaintop removal operations because of their potential harmful impacts on water quality. Meanwhile, U.S. Justice Department attorneys representing the Army Corps of Engineers have until April 28 to respond to a challenge of an earlier federal ruling on mountaintop removal, which will
force the Obama administration take a firm stand on the destructive practice
.
"The people of Appalachia have sacrificed everything including their lives for energy in America," says Gunnoe. "We must put a stop to mountaintop removal coal mining and transition to renewable energy to allow us our homeland security and to preserve our rightful place and culture in the mountains."
(Photo by Tom Dusenbery from the Goldman Environmental Prize gallery)