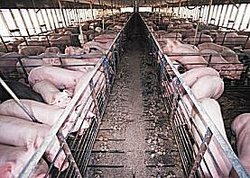 Grist Magazine online has a must-read story by North Carolina-based food editor Tom Philpott examining a possible link between the outbreak of swine flu and Smithfield Foods of Virginia, the world's largest pork producer and processor.

Forty cases of the disease have been confirmed so far in the United States, including two cases in Texas, according to the U.S. Centers for Disease Control and Prevention.

The outbreak of this particular strain of flu, which is caused by virus found in pigs, originated in the Mexican state of Veracruz, where Smithfield subsidiary Granjas Carroll raises about a million hogs a year, Philpott reports.

He points to a timeline of the outbreak on the blog Biosurveillance that documents a "respiratory disease outbreak" in the small Veracruz town of La Gloria, where about 60% of the population of about 3,000 has been affected by what's been characterized as a "strange" outbreak of acute respiratory infection leading to some cases of bronchial pneumonia. According to Biosurveillance:
Residents believed the outbreak had been caused by contamination from pig breeding farms located in the area. They believed that the farms, operated by Granjas Carroll, polluted the atmosphere and local water bodies, which in turn led to the disease outbreak. According to residents, the company denied responsibility for the outbreak and attributed the cases to "flu." However, a municipal health official stated that preliminary investigations indicated that the disease vector was a type of fly that reproduces in pig waste and that the outbreak was linked to the pig farms. It was unclear whether health officials had identified a suspected pathogen responsible for this outbreak.
Philpott notes that the Mexico City daily La Jornada has reported on the possible connection between the flu outbreak and Smithfield's operations, noting that a Mexican health agency has acknowledged that the original carrier of the disease may have been the flies that breed in the company's hog waste lagoons.

The swine flu outbreak has led to a drop in Smithfield's stock prices, with analysts increasing their loss estimates for that company has well as Arkansas-based Tyson Foods due to consumer concerns about pork.

(Photo of an industrial hog farm from the Environmental Protection Agency)