By Roberto Dr. Cintli Rodriguez, New America Media
President Obama is not to be confused with former President Bush... yet on the issue of immigration, his failure to act means that we continue to live under Bush's policies.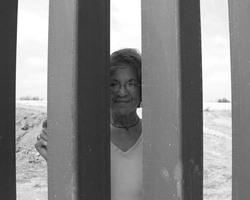 On April 16, this crushing news came in from the Lipan Apache Women Defense organization: "A federal judge in Brownsville, Tex. issued an order today granting the federal government's request to condemn the ancestral land of the Tamez Family, who are Lipan Apaches... As of today, it is in the possession of the United States Department of Homeland Security." 
The purpose of this land seizure is to allow the government to put up Bush's 2,000 miles of fences and walls along the U.S.-Mexico border. Yet the irony is that this Big Brother Department - created under Bush -- is now under the control of the Obama administration, with, in effect, the same policies, the same objectives and the same results. 
In any society, a wall is the ultimate symbol of fear and failure. There was plenty of both in the previous administration, when the clamor for a wall along the U.S.-Mexico border reached its crescendo. It is under the Bush administration that walling off the border began in earnest. 
Militarization of the border also accelerated, along with the deaths of thousands in the desert as a direct result of these policies. Massive immigration raids and mass deportations became the signature of the Bush administration. 
While Obama offers goodwill in Mexico and throughout the Americas, the wall keeps getting built. And the Bush-created Operation Streamline continues, trying and convicting an average of 70 immigrants every day in a one-hour proceeding in Tucson's federal court. 
Flor Crisóstomo, an indigenous Zapotec woman from the state of Oaxaca, Mexico, is the public face of the immigrant rights movement in the United States. Living in sanctuary at the Adalberto United Methodist Church in Chicago's Humboldt Park neighborhood, she notes that President Obama is a welcome change from the dehumanizing policies of Bush. But the only change she has seen so far is the slowing down of the massive indiscriminate immigration raids. 
Targeted raids, however, continue. 
Crisóstomo, who crossed the perilous Sonora Arizona desert before moving to Chicago, believes that in the end, Obama will do what Bush never did: treat all people as full human beings. "We are human beings ... We deserve respect," she asserts. 
While she understands that passing a comprehensive immigration bill is difficult, she believes that some of the most onerous aspects of Bush's policies - immigration raids, Operation Streamline's "kangaroo courts," the seizure of indigenous land -- can come to a halt immediately with simple executive orders. "Congress has not yet proposed a law... better that the president take the initiative," she says. 
But for a real solution, she believes that Americans first need to be educated about to "why indigenous peoples are coming to this country. People in this country don't understand indigenous peoples," she says. "Those of us with dark skin and indigenous features are singled out and seen as criminals and as ignorant. If there was investigative journalism in this country, people would know why we have fled." 
Without reforming NAFTA, she adds, nothing will be resolved. NAFTA has permitted a massive influx of U.S.-subsidized crops into Mexico. Unable to compete fairly, this has precipitated a massive uprooting of communities. "This is why peoples and families are being separated. We don't come to this country to be criminalized... we don't come because we want to go to Disneyland or Las Vegas... it's because what this government is doing to our country." 
The Bush response was to ignore the root causes of this migration, and instead build walls to keep migrants out. 
Obama can bring good will by tearing the walls down, and he can start by directing the so-called Department of "Homeland" Security to give the Lipan Apache family's ancestral homeland along the U.S.-Mexico border back to them.
Copyright © New America Media