CULTURE BEAT: A new play celebrates bounce music and New Orleans' culture
By Jordan Flaherty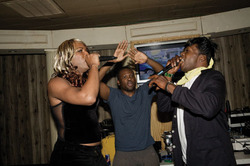 Catch Dat Beat, a unique, only-in-New-Orleans theatrical event, played for one weekend last month at Ashe Cultural Arts Center. It sold out its several hundred seats every night and will re-open in June at a bigger venue, a 900-plus seat auditorium at Walter L. Cohen High School. The play, directed by music producer Lucky Johnson, features several local Hip-Hop performers and has left crowds screaming for more. An up-and-coming rapper named Big Freedia steals the show in the lead role.

Tall and self-assured, Freedia is a powerful performer and brings an undeniable energy to the play. During rehearsals, says Lucky, "when Freedia comes in, the cast lights up, and everyone does their best." Freedia is best known as part of a community of gay rappers self-identified as sissy bounce artists. She rejects that label, saying, "I'm a gay rapper, don't get me wrong. But there's no such thing as separating it into straight bounce and sissy bounce. It's all bounce music."

Bounce is the name given to the style of New Orleans Hip-Hop recognized for a distinctive beat and call-and-response lyrical style that owes much to Mardi Gras Indians and other local cultural traditions. Although not widely listened to outside of the south, bounce dominates New Orleans clubs, and is so identified with the poor neighborhoods of the city, it's sometimes called "project music."

"When you hear bounce," says Lucky, people in a club go wild. "They just forget about it. They throw their hands up in the air, they catch the wall." However you label Freedia's music, she is one of several gay rappers who have broken down barrier after barrier to become some of New Orleans' most popular musicians.

Spreading New Orleans Culture

Catch Dat Beat attempts to spread the love of bounce, and it proves infectious. The play advertises that it has no profanity or "obscene body gestures," (a challenge, when capturing the bounce experience, which often involves a lot of both).  Lucky Johnson is a cousin of popular director/actor Tyler Perry, and like a Tyler Perry script, Catch Dat Beat has positive characters and an accessible story. The basic story follows a hair stylist (played by Freedia) who throws a block party to show a visiting cousin how New Orleans gets down. There are moments of conflicts (will Freedia's grandfather, played by Lucky, accept her sexuality? Will police break up the block party?) but the show is really about celebrating local culture. Lucky also acts in the play, along with bounce trendsetter Tenth Ward Buck.

The second act of the show recreates a block party on stage, and features short appearances by many of the biggest names in bounce. During the opening weekend, the crowd rose cheering to their feet as stars including Ms. Tee, Gotti Boy Chris and Katey Red took over the stage.

Lucky wants Catch Dat Beat to help popularize bounce and New Orleans. He structured the play around a block party to show that New Orleans celebrations are really about building community and supporting your neighbors.

"Growing up in less fortunate neighborhoods, your parents would have card games, or suppers," explains Lucky. "Say Miss Carol across the street's light bill was due. Miss Carol would have a supper. Everyone in the neighborhood would buy a plate to help her pay the light bill." In other words, continued Lucky, the block party comes from this tradition, and is ultimately about "how a people are able to come together in a time of need."

Lucky has produced many of New Orleans bounce hits, and sees producing as a way to support positive work. "I can't sign a hip hop gangster rapper," he says.  "I don't advocate killing and drugs or slap that bitch. I'm not into that. I'm not gonna put my money behind it. If you come to me with something that says 'get on the dance floor and have a good time,' then I can support it."

He is excited about all of the play's actors, heaping praise on the long history of great work Tenth Ward Buck and Freedia have produced. "Buck was the first in so many ways," he says of his star, listing his accomplishments. "The first to speed up bounce, the first to take an R&B track and Bounce it out." Through more than ten years of albums, plus a film, an upcoming book, and his dedication to working with youth, Buck has earned the praise.

As for the star of the show, "Freedia is outstanding," says Lucky. "Every time he'd get the mic, he'd just light up the room." Buck also Is quick to praise Freedia. "As Freedia was coming up, a lot of people tried to drag him down," Buck says. "And he didn't care about what they said, he kept moving forward. I don't care if you straight or what, everyone is bouncing to Freedia's music." In fact, the sissy bounce community that Katey Red birthed ten years ago with her album Melpomene Block Party has rejuvenated the form, and gay rappers like Freedia have gone from a novelty to a central part of bounce culture.

Conquering Obstacles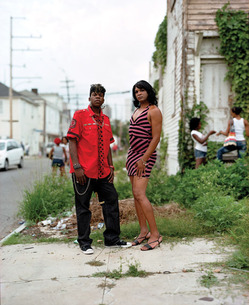 Bounce music faces many obstacles on the way to national popularity. It is in many ways so distinctly New Orleans, with most songs featuring neighborhood-specific references, that it's hard to imagine a bounce party in any other city. However, elements of bounce have appeared in songs by national acts like David Banner, Mike Jones and Beyonce.

Here in New Orleans, bounce artists bring lines around the corner when they perform. Freedia believes bounce will keep growing, and isn't worried about any potential obstacles. She has struggled in a sometimes-homophobic music scene and become one of the leading stars - gay or straight - in New Orleans. "We been working really hard all these years of getting people to accept us," she says. "Maybe get throwed at and screamed at, but over time all that has changed. All the hard work has finally paid off."

With a show at this year's Jazz Fest by Big Freedia, Katey Red and Sissy Nobby, as well as a photo spread in hipster music magazine XLR8R, the music form is clearly reaching new audiences. "For me it was the determination to change the people and make them love what we do," says Freedia. "And that's what my job was. When I became a gay bounce rapper I said that I was going to change it and make people love me, and make them love gay people."

"People say negative things," about gay rap stars, acknowledges Lucky. "I don't care, at the end of the day it's about the message. People who are homophobic, it tells me about that person's character, because god loves us all no matter what."

Jordan Flaherty is a journalist based in New Orleans, and an editor of Left Turn Magazine. He was the first writer to bring the story of the Jena Six to a national audience and his reporting on post-Katrina New Orleans shared a journalism award from New America Media. He can be reached at neworleans@leftturn.org.