CULTURE BEAT: 'American Violet' delves into corrupt judicial system
By Kimberly Roberts,
Philadelphia Tribune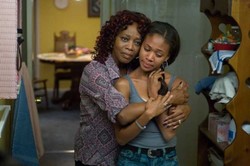 As the summer movie season approaches and the studios begin to roll out their blockbusters, complete with explosions, special effects and car chases, Samuel Goldwyn Films presents "American Violet," an eye-opening, thought provoking film featuring the amazing Alfre Woodard and starring newcomer Nicole Beharie. 
Based on actual events that took place during the 2000 Bush/Gore Presidential campaign, "American Violet," directed by Tim Disney, is the emotional story of Dee Roberts (fictional name), a hard-working, 24-year-old mother of four in the impoverished town of Melody, Texas, who takes care of her daughters and is adored by the customers at the diner where she works as a waitress. 
One day while Dee is at work and the girls are under her mother Alma's (Alfre Woodard) care, one of the random drug raids that have taken place since Dee was a child suddenly swoops down on their ramshackle little neighborhood. Even though Dee wasn't even home at the time, the police soon arrive at the diner, charge her with distributing drugs, and arrest her. 
Shortly after, Dee finds herself in jail, along with a lot of other poor Black folk who were arrested in the raid. "They were running like cockroaches from a burning torch!" said one of the gleeful arresting officers. As Dee sits in prison, Calvin Beckett (Michael O'Keefe), the powerful district attorney comes to her with a plea bargain which she promptly refuses, saying that she didn't do anything wrong. "If you don't take the plea, we will prosecute you to the fullest extent of the law -- 16 to 25 years!" shouts a red-faced Beckett. Even in the face of her mother's angry insistence, Dee still refuses to take the plea. Her life is further complicated by her crazy baby daddy, Darrell (Xzibit), and his stank girlfriend, who seize the opportunity to try to take the kids, just for the twisted thrill of sticking it to Dee. 
Just as Beckett and his boys begin to ramp up the harassment by adding their own threats to take away Dee's children, along comes David Cohen (Tim Blake Nelson), an ACLU attorney who asks Dee to help him bring down the corrupt system of Texas "justice," which goes deeper than anyone ever imagined. 
"What's happening in Melody is happening all over our country," David said. "Drug task forces use military tactics to terrorize poor people. Meanwhile, federal money goes to the counties that convict the most people, and plea bargains are aggressively enforced to hasten those convictions." 
Suddenly bolstered by the support of Cohen, the ACLU and the Rev. Sanders (Charles S Dutton), Dee agrees to help expose the corruption, despite Cohen's candid warnings that "they" were going to "come after" her. 
Nicole Beharie gives a riveting portrayal of Dee Roberts, a strong yet sympathetic figure who compels you to experience every injustice right along with her. She plays the character with a quiet grit and determination that was reminiscent of the wonderful Kimberly Elise. 
While she gives a good performance and it's always great to see her, Alfre Woodard is under-utilized in "American Violet" and the role would have been a good opportunity for a lesser-known actress.Tim Disney does an excellent job of directing this piece, bringing to light the fact that 95 percent of criminal convictions in this country are the result of plea bargains, not jury trials, and exploring how "the drug war has become the new Jim Crow." While the subject matter is depressing, the result is inspiring. "American Violet" opens in theaters today. (Rated PG-13).
Copyright © New America Media