CULTURE BEAT: Remembering famed "Sugar Shack" painter Ernie Barnes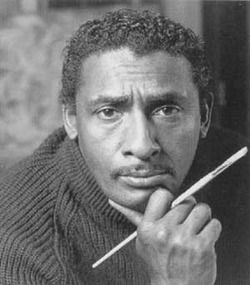 Ernie Barnes
, a one-time professional football player who became one of the nation's foremost African-American artists, died this week at age 70 after a brief illness. 
Widely-known as the real painter behind the character J.J. Evans' artwork in the groundbreaking African-American sitcom "Good Times," Barnes had a unique style of painting that made him one of the premier figurative artists of the late 20th and early 21st centuries. His style, which has been widely imitated, is best exemplified by his celebrated "Sugar Shack" dance scene that appeared on Marvin Gaye's "I Want You" album cover and in the closing credits of "Good Times." 
Born in Durham, N.C. in 1938 during the Jim Crow era, Barnes' interest in art first took root while his mother was employed as a domestic to help oversee the household of a prominent attorney. The young Barnes would often accompany his mother to work where he was allowed to explore an extensive collection of art books at the attorney's home. 
Later in high school Barnes took up sports, a path that would lead him to a successful career in college and professional football. He transcended racial barriers in the sport, playing for a succession of teams including the Denver Broncos and San Diego Chargers.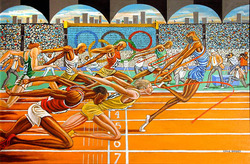 Yet art was never far from his mind. He kept up with his art when he was playing football, sketching fellow players. The insights he garnered in human form and movement due to his sports background is reflected in his work. Barnes became known for depictions of athletes and ordinary people whose muscled, elongated forms expressed physical and spiritual struggles,
reports
 the Associated Press. He created people made of sensuous lines, "powerful, sometimes haunting portraits of agility, strength and the emotional costs of fierce competition."
Art critics say that Barnes' reliance on elongation and distortion gave his work a sense of energy, power, grace, intensity and fluidity. It gave it movement. For this reason Barnes is known as a pioneer of the "neo-mannerist" style, which featured elongated figures in motion. 
"Sugar Shack" shows a Brueghel-like mass of bodies, writhing and jumping to the rhythms in a black jazz club. There is joy, tension and despair in the canvas, which Barnes once said was inspired by a memory of being barred from attending a dance when he was a child.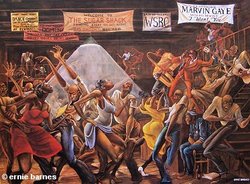 As in nearly all of his paintings, the subjects' eyes are closed in the "Sugar Shack," a reflection of the artist's oft-quoted belief: "We are blind to one another's humanity. We fail to see the gifts and strengths in one another."