Across the country today, and internationally, events are being held calling for a new trial for Georgia death row prisoner Troy Davis.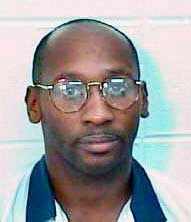 Davis, a 40-year-old African-American man, has been on death row since 1991 for the 1989 murder of off-duty white Savannah policeman Mark MacPhail. Despite his 18 years on death row, Davis maintains his innocence, and legal experts and human rights advocates say there is enough evidence to back up his claim.
The original witness testimonies were the backbone of the prosecution's case against Davis because of the absence of a murder weapon, fingerprints and DNA evidence. Since Davis' trial, seven of nine key prosecution witnesses who testified against him have recanted their testimony. Despite these witnesses' recantations and the exculpatory statements of additional witnesses pointing to another man as the shooter, U.S. courts have refused to allow Davis a hearing to present the new evidence.
In the last two years, Davis has come within hours of lethal injection three times but has been granted a stay. On April 16, the 11th Circuit Court of Appeals ruled 2-1 against Davis' appeal, essentially denying possible innocence as a sufficient reason to overturn the trial verdict. The dissenting judge, Judge Rosemary Barkett, wrote, "To execute Davis, in the face of a significant amount of proffered evidence that may establish his actual innocence, is unconscionable and unconstitutional."
Davis' last stay of execution expired on May 15. Tuesday Davis' lawyers filed a last-ditch appeal to the U.S. Supreme Court, asking that the case be sent back to a federal judge for an evidentiary hearing that would include witnesses whose testimony has never been heard in court.
Davis's case has attracted international attention--influential advocates, including former President Jimmy Carter, Civil Rights icon John Lewis, South Africa Archbishop Desmond Tutu, and Pope Benedict XVI, insist that there's enough doubt about Davis' guilt to merit a new trial.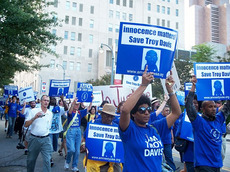 The May 19 Global Day of Action is being marked with rallies, vigils and petition drives in cities including Austin, Chicago, New York and Washington, D.C. asking Georgia Gov. Sonny Perdue to offer clemency. Organized by Amnesty International, supporters of Davis are also gathering today on the steps of Georgia's Capitol to protest Davis' execution. While Davis' lawyers mount their appeal to the Supreme Court, organizations such
Amnesty International are calling
on people to flood the governor's office and the Pardons and Parole Board with letters, e-mails, faxes and phone calls.
Criminal justice experts point out that Davis' case represents the problems with the way courts deal with post-conviction evidence, an issue that has received increased attention due to the important role it's come to play in death-penalty cases.
As USA Today
reports
:
Davis' attorneys and advocates for the wrongfully convicted say his case, set for another U.S. Supreme Court appeal this week, represents one of possibly dozens in which courts are reluctant to consider evidence discovered after conviction that might exonerate inmates on death row.