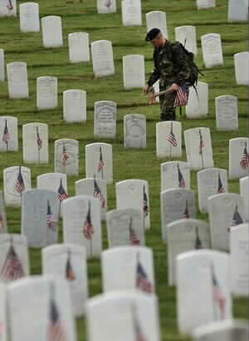 This Memorial Day is going to be especially hard in places like Fort Hood, Texas, Camp Lejeune, North Carolina and Fort Campbell, Kentucky.Why? Because, as I show in a short report [pdf] we just released at the Institute, these and other Southern base towns have lost more soldiers than any other part of the country--about half of all the U.S.-based troops killed in Iraq so far.

You can check out the full report here [pdf].

Four states stand out as having lost the most: Georgia, Kentucky, North Carolina and Texas. Military bases in those four states alone have lost 38% of the troops killed in Iraq so far.

As you can imagine, the impact of these losses is devastating for the South. When you're stationed in a base town, you become part of the community. The loss leaves behind broken families and neighborhoods.

The issue will only become more salient as the South's share of military bases continues to grow. In a 2002 study, the Institute found 56% of U.S. troops were stationed in the South. The South's share has only increased since then: A follow-up report we did in 2005 found that, during the Pentagon's latest round of closings and realignment, Southern states actually gained 15,000 military personnel at over 50 bases.