The poor and people of color get the dirtiest air
By Nina Jacinto, (reprinted from
Wiretapmag.org)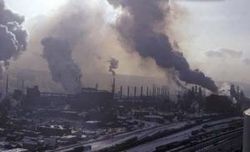 Last week, researchers at the University of Massachusetts and the University of Southern California released a study that confirms what many people are all too familiar with: toxic pollution falls disproportionately on lower-income neighborhoods and communities of color. The 28-page report, entitled "
Justice in the Air
", is one of the first to examine the disparities between the health risk from industrial air toxins faced by people of color and the poor and their proportion of the population.
Birmingham, Alabama
 ranks first among metropolitan areas in the race-based rankings: people of color are burdened by 65% of the health risk but only make up 34% of the population. Baton Rouge, Memphis and Chicago follow closely behind. Birmingham also tops the class-based rankings: low-income individuals account for 24% of the health risk but make up 13% of the population (
PDF
). Baton Rouge, Tacoma, Gary, and Milwaukee-Waukesha are metropolitan areas that are featured in both top-ten rankings. This suggests that while there is some correlation between income, race, and environmental injustice, there must also be distinct racial and socio-economic examinations of how communities are impacted by environmental hazards. 
Another unique component of the report is its study of industrial companies whose pollution has disproportionately affected low-income communities or communities of color. These results are particularly significant because they allow race and class to be taken into consideration when assessing corporate environmental responsibility. National Oilwell Varco, ExxonMobil and the Hess Corporation are among the top ten in both racial and socioeconomic toxic rankings. More than 50% of the health risk falls on people of color for each corporation. 
While "Justice in the Air" highlights how medium-sized cities with heavy industry face the highest race and socioeconomic disparities with regards to air pollution, it also correlates with the conclusions that have been made from more general studies. The
American Lung Association
recently released a study containing a list of the
most polluted cities
, which include Los Angeles, Bakersfield, Sacramento, Dallas, and Houston. The power plants, refineries, industrial waste facilities, and freeways that pollute cities like Los Angeles are predominantly in low-income neighborhoods and communities of color. 
Across the board, research is pointing to an important conclusion: if policymakers and organizations intend to work towards healthier and cleaner communities, they must recognize the existence of systemic environmental racism and classism. An effective environmental justice movement will consider the intersections of race, culture, class and geography in its creation and implementation of laws, regulations and policies.