Biloxi removing FEMA trailers, undermining Obama and victimizing Katrina survivors
By Jeffrey Buchanan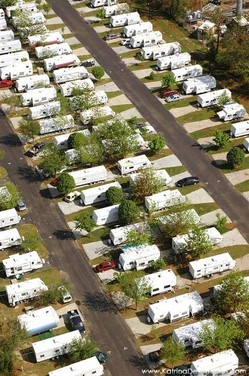 Despite
President Barack Obama's decision
to allow residents living in FEMA trailers to remain in their trailers while the federal government partners with residents to find permanent housing, the Biloxi City Council is preparing to take action to kick these hurricane survivors out of their city.
Chuck Rogers, a long-time Biloxi resident, is currently living in a trailer along Redding Street as he works with Hope Community Development Agency, a community-based nonprofit working to find permanent homes for Katrina survivors, to redesign a new home for his lot. He is eager to move out of his trailer but now fears the city council ordinance will set back his plans to rebuild saying, "I'm just trying to do the best I can to build to the future."
"I think it's important that the city recognizes that everyone has not recovered completely from Katrina and that a number of people are still working on their homes," said Ward 2 Councilman Bill Stallworth, an outspoken critic of the ordinance who also serves as executive director of Hope Community Development Agency. "It will be unconscionable for the city to throw its citizens onto the streets."
"Biloxi will run afoul of the federal Fair Housing Act if the trailer occupants it displaces include high numbers of racial minorities, persons with disabilities, or single mothers with children," noted Reilly Morse, an attorney with the Mississippi Center for Justice.
Still, questions remain about how the Administration plans to address the region's remaining inter-related post-Katrina-Rita social, economic and environmental crises, especially after the U.S. Treasury Department's recent decision to exclude Gulf Coast communities from key housing programs in the economic recovery package, affecting the construction of 10,000 much-needed affordable housing units. Advocates fear that such actions, if allowed to move forward, will not only be a major set-back for residents rebuilding their homes and lives in Biloxi, but possibly for residents in other cities looking to enact similar ordinances to force out vulnerable residents still residing in FEMA trailers but unable to find permanent affordable housing.
Jeffrey Buchanan is the communications officer for the Robert F. Kennedy Memorial Center for Human Rights.