Cristina Fernandez-Pereda, New America Media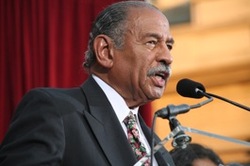 WASHINGTON, D.C. -- Hundreds of doctors, nurses and other social and health care workers gathered in Washington, D.C.'s Freedom Park Wednesday, asking Congress to end the racial and economic disparities in the United States' health care system.
"How can we be talking about the American Dream when some women have to choose between food for their children or going to the doctor?" Eleanor Hinton-Hoytt, president and CEO of the Black Women's Health Imperative asked the assembled crowd.
According to a report published in June by the Kaiser Family Foundation, nearly 30 percent of all minority women have no access to health care. The report said Hispanic and Asian American were least likely to be insured.
Protesters heard stories of Asian women skipping mammogram tests because of cultural and language barriers, mothers choosing between feeding their children or going to the doctor, and of a 49-year-old woman who died in the waiting room of an emergency room last year before she received any help.
"This is not about the health care we want," Hoyt said. "It's about the health care we need, that we deserve: Health care with no language barriers and that provides the necessary cultural understanding to patients' needs."
As demonstrators rallied in Freedom Park, President Barack Obama held his own town hall meeting on health care inside the White House. There, the president touted his own "uniquely American" health care plan.
"If we are smart, we should be able to be able to design a system where people should have choices of doctors and choices of plans," Obama said. "Where "necessary care is provided but we do not have a huge amount of waste in the system, where we have adequate coverage for all people and that we are driving down costs over the long term."
At the demonstration in Freedom Park, California Congresswoman Lucille Roybal-Allard praised Obama's proposal but said it did not go far enough.
"We can no longer be a nation of 47 million uninsured. We spend more on health care than any other country; we can no longer accept that babies are born to mothers who cannot cover their needs," Rep. Roybal-Allard said.
Royball-Allard, who chairs the Congressional Health and Environment Task Force, is pushing a different plan, co-sponsored by the Congressional Black Caucus, Hispanic Caucus and Asian Pacific American Caucus, which would strengthen the Office of Minority Health within the Department of Health and Human Services, addressing cultural and language concerns such as credentialing for medical translators.
One option that remains off the table in Washington debates is single payer health care, a fact which was noted by Rep. John Conyers (D-MI), who ticked off a list of of countries with universal health care access like Germany, since 1983; the United Kingdom, since 1946, and Switzerland, since 1911. "The United States? Still working on it!" he said.
Encouraging the audience to keep fighting, Conyers spoke of hearings taking place now in Congress on universal health care. The representative from Detroit said the House is working on a public option which would allow people to buy government health insurance or to "stay with whatever you have," so those who are satisfied with their health care coverage are not forced to change it.
It was Conyers, too, who spoke not only of the 47 million uninsured Americans, but also about the 30 million people whose health care coverage is not enough for what they need. Whether it is for lack of interpreters and translators for those who speak other languages than English or the cost of medication in a troubled economy, the current health care system does not supply adequate care for everyone with insurance, he said.
Protester Gary Taylor, a volunteer in a clinic for low-income people in Raleigh, NC, argued "we need to focus on the strong anger in the communities and use it to press our legislators to fight all those other voices who are putting a lot of money on this."
Taylor said an interfaith mass service before the rally "showed that the health care issue might have been a reason to divide the American people before, but today we have shown that we have one mind. I feel that we are going to go home and multiply the effort."
That's what the 'Purple Bus Mom' from Atlanta did three months ago out of necessity, not just anger.
She decided to "get off the sofa and into the fight" for her two children, who suffer from a chronic disease. Kathleen, who prefers the nickname 'Purple Bus Mom,' spoke of those she has met on the road; like Jack, a man who had been diagnosed with Type 2 diabetes weeks before losing his job and healthcare coverage. Holding a photograph of Jack's family, the 'Purple Bus Mom' yelled in anger, "This is wrong for Jack. This is wrong for us."
Copyright © New America Media