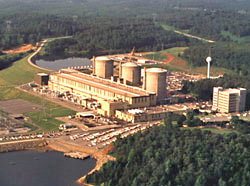 Duke Energy reached a settlement earlier this month with consumer and environmental groups over its proposed Save-A-Watt energy efficiency program in North Carolina, which they initially criticized as costing too much and doing too little.
According to the
agreement
[pdf] reached by organizations represented by the
Southern Environmental Law Center
, Save-A-Watt will aim to reduce energy demand by almost 2% within four years, with the potential for savings of over 8% in 10 years. That compares to only a 1.2% demand reduction over four years under the original proposal put forth by the company based in Charlotte, N.C.
The program still has to earn the approval of the N.C. Utilities Commission. Duke Energy is now working with environmental groups in South Carolina on a similar energy savings program for that state, the
Charleston Regional Business Journal reports
.
If Duke achieves its goal, the North Carolina program's cumulative energy savings would reach almost 6,800 gigawatt-hours by 2020 -- slightly more than the annual output of the controversial 800-megawatt coal-fired unit the company is building at its existing Cliffside plant west of Charlotte.
The agreement shows how much more cost-effective reducing energy use is than building new generation facilities. That's why one energy expert says he finds it ironic that just days after reaching the efficiency agreement in North Carolina, Duke Energy
announced plans
to build a multibillion-dollar nuclear plant in Piketon, Ohio. The company is partnering on the project with French reactor company Areva, nuclear developer UniStar Nuclear Energy and uranium supplier USEC Inc., which operates a uranium enrichment facility in Paducah, Ky.
Dr. Mark Cooper, a senior fellow for economic analysis at the Vermont Law School's
Institute for Energy and the Environment
, made the remark during a telephone press conference last week to discuss his new report on the cost of building new nuclear reactors. (
Click here [pdf] for the full report, here [pdf] for the overview and here for the archived press call.
) He estimates that new nuclear plants will cost between 12 and 20 cents per kilowatt-hour compared to an average of 6 cents for efficiency and renewables.
"The Duke example is really ironic," Cooper said during the press conference. "We shouldn't even be talking about building plants that cost four times as much as efficiency."
Pointing to the
plan being promoted by Sen. Lamar Alexander
(R-Tenn.) and others to build 100 new nuclear reactors across the United States, Cooper noted that it would result in up to $4 trillion in excess costs for U.S. taxpayers and ratepayers -- that is, costs over and above that it would take to generate the same electricity from a combination of more efficiency and renewable energy.
The study points out that
the massive subsidies
from taxpayers and ratepayers to the nuclear industry don't reduce the real cost of reactors; they simply shift the costs to the public. Even with those subsidies, reactors are still more expensive than the alternatives -- not only efficiency, but also biomass, wind and cogeneration.
"We are literally seeing nuclear reactor history repeat itself," Cooper said. "The 'Great Bandwagon Market' that ended so badly for consumers in the 1970s and 1980s was driven by advocates who confused hope and hype with reality. It is telling that in the few short years since the so-called 'Nuclear Renaissance' began there has been a four-fold increase in project costs."
Plans for 26 new commercial reactors at 17 sites across the United States that have been filed with the federal regulatory authorities, according to
the most recent data from the Energy Information Administration
[pdf]. Of those 26 proposed reactors, 21 are located in the South.
Duke Energy has also proposed building two reactors at its William States Lee III plant in Cherokee County, S.C.
(Photo of Duke Energy's Oconee Nuclear Station in Oconee County, S.C. from the Nuclear Regulatory Commission's website)