Senate passes resolution apologizing for slavery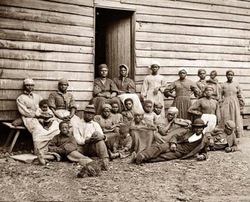 The Senate passed a resolution Thursday calling on Congress to officially apologize "to African-Americans on behalf of the people of the United States for the wrongs committed against them and their ancestors who suffered under slavery and Jim Crow laws."

The resolution, which passed the Senate in time for Juneteenth, goes on to recognize "the fundamental injustice, brutality, and inhumanity of slavery and Jim Crow laws."

Once approved by the U.S. House, which could come as early as next week, the resolution will be the first time the entire Congress has formally apologized on behalf of the United States for slavery. Six state legislatures -- in Virginia, Alabama, Florida, Maryland, New Jersey and North Carolina -- have adopted resolutions apologizing for slavery, but past proposals in Congress have stalled. In 2008, Rep. Steve Cohen (D-Tenn.) sponsored a slavery apology resolution that passed in the House but died in the Senate.

The new Senate resolution acknowledges that: "African-Americans continue to suffer from the consequences of slavery and Jim Crow laws -- long after both systems were formally abolished -- through enormous damage and loss, both tangible and intangible, including the loss of human dignity and liberty." But the resolution differs from last year's House resolution in one major detail: The Senate's version includes an ending disclaimer stating that "nothing in this resolution -- (A) authorizes or supports any claim against the United States; or (B) serves as a settlement of any claim against the United States."

Several members of the Congressional Black Caucus expressed concerns about the disclaimer, arguing that it is an effort to hold off any calls for the U.S. government to pay reparations to the descendants of African slaves.

As McClatchy News Service reported:
The CBC members think that the disclaimer is an attempt to stave off reparations claims from the descendants of slaves. Congressional Black Caucus Chair Barbara Lee, D-Calif., said her organization is studying the language of Harkin's resolution.

Other CBC members said they've read it and don't like it. "Putting in a disclaimer takes away from the meaning of an apology," said Rep. Bennie Thompson, D-Miss. "A number of us are prepared to vote against it in its present form. There are several members of the Progressive Caucus who feel the same way."

Thompson and other Black Caucus members noted that a 1988 apology issued to the Japanese-Americans held in U.S. camps during World War II had no disclaimer and didn't prevent them from receiving compensation.
Observers note that it has taken Congress and the United States this long to issue an official apology partly over concerns that such an apology would lead to demands for reparations.

As The Root explains:
One of the reasons for the delay was the complicated and complicating idea of reparations for slavery. Some have worried that the existence of an official apology would only strengthen the case for reparations; time, it seems, has just diminished those concerns.
House Judiciary Chairman John Conyers Jr. (D-Mich.) has reintroduced a reparations resolution every year since 1989, but has made little headway with this proposal for the federal government to consider some form of committee to study reparations. But reparations advocates are not going to be dissuaded if Congress passes a final joint apology resolution with the disclaimer.

As the Washington Post reported:
Charles Ogletree, the Harvard law professor who has championed restitution, was consulted on the Senate's resolution and supports it, but he said it is not a substitute for reparations. "That battle will be prolonged," he said.

Randall Robinson, author of The Debt: What America Owes to Blacks, said he sees the Senate's apology as a "confession" that should lead to a next step of reparations. "Much is owed, and it is very quantifiable," he said. "It is owed as one would owe for any labor that one has not paid for, and until steps are taken in that direction we haven't accomplished anything."