By David Epstein, ProPublica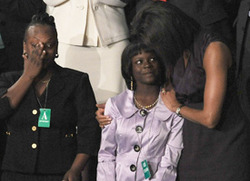 South Carolina's Supreme Court has forced Gov. Mark Sanford
to request $700 million
in stimulus funds, which are largely earmarked for schools. So that Dillon, S.C., eighth-grader who wrote
a letter to President Obama
about her crumbling middle school can breathe a sigh of relief, right? Not quite.
Back in February, with the stimulus freshly passed and in need of some emotional fortification, Ty'Sheoma Bethea's impassioned letter to President Obama detailing her decrepit junior high school suddenly made her
the face
of the biggest spending bill in U.S. history. Bethea flanked a beaming Michelle Obama in February as the president delivered his first speech to a joint session of Congress. In the
speech
, Obama recounted Bethea's letter about how, at
J.V. Martin Junior High School
in Dillon, S.C., the ceilings leak, the paint is peeling and learning is regularly interrupted by a train that thunders by the school.
With Gov. Mark Sanford's
opposition
to accepting stimulus money for schools finally squelched, the state's schools and public colleges are eager to receive a piece of the $350 million in stimulus funds budgeted for this year. In Dillon, though,
$900,000 in stimulus funds
for the district - half of what superintendent Ray Rogers expected earlier in the year - will reduce cutbacks, but won't stop the ceiling from leaking or the paint from peeling any time soon.
CNN reports
that the school will continue to use 14 mobile classrooms, and teachers will still have to run across a playground to use the bathroom. The district has been trying to sell $60 million in bonds to replace the school's main building, which has been in use since
1896
. When asked when a new facility would be built, Rogers told CNN that "I don't have an answer to that...But when it does, you'll be able to hear me yelling all [the way] across the country."
Despite the fact that the stimulus provides over $100 billion nationwide for education over the next two years to prevent cuts and drive education reform, 31 states have already made cuts to public schools or colleges, according to a
repor
t by the National Association of State Budget Officers and the National Governors Association. Additionally, in an effort to get stimulus money to schools as quickly as possible, the federal government relied on traditional funding formulas, which rely on factors like a state's school-age population and poverty census data. The education funding criteria did not take into account the
proportional size of a state's budget gap
. So while some states will face frightening school cuts this year and next, others with proportionally small or no budget deficits, like South Dakota and Wyoming, will see a
one-time windfall of education money
.