Unemployment reforms sweep nation due to federal recovery incentives
By Caroline Fan, Progressive States Network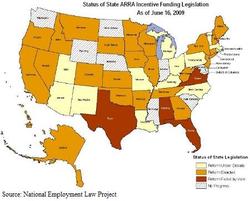 In a time of rising costs, increased unemployment, and declining wages, American workers could easily feel like they've been left to fend for themselves. Fortunately, because of incentives and funding included in the American Recovery and Reinvestment Act, as a new
National Employment Law Project report details
, states across the country have enacted measures to make it easier for unemployed Americans to obtain unemployment insurance (UI) benefits.
Progress this session includes:
Half of the states passed measures over the last four months to extend unemployment insurance to groups like low-wage workers, women, part-time workers, and the long-term unemployed usually left outside the system.  This is on top of the eight states and District of Columbia that had already enacted some of those reforms. Under these expanded eligibility measures, an additional 150,000 additional workers a year will be eligible for UI benefits.
21 states changed their laws to extend unemployment insurance benefits by 13-20 weeks if their state's unemployment rate reaches 6.5 percent. (The most recent monthly update from the Bureau of Labor Statistics says that 33 states are at 6.5 percent unemployment or above).
UI reform has been a bipartisan effort with nine Republican governors signing legislation, despite initial unwillingness by some high-profile Republican Governors to adopt the changes. The states which have opted to enact these changes will receive $3.2 billion of funding.
About a dozen states are still actively debating measures to enact the required reforms to qualify for ARRA funding, including Delaware, Louisiana, Massachusetts, Michigan, North Carolina, and Rhode Island, where bills have passed at least one chamber of the state legislature or required committees.

This historic expansion and reform of unemployment insurance serves as a model for how state and federal government can best collaborate, with initial state experiments creating model legislation, the federal government then providing financial support for other states to emulate those models, followed by state campaigns to help spread those best practices to other states.