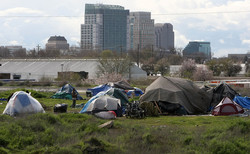 As the recession deepened across the country during the past year, the nation saw a shift in its homeless populations to include more families and more rural and suburban areas.The number of homeless people receiving shelter in 2008 sat at about 1.6 million, slightly more than in 2007. Yet, the number of those in families rose by 9%, according to the new annual
report
from the U.S. Department of Housing and Urban Development.
Nationally, the report found:
More than half of all homeless people on a single night in January 2008 were found in just five states: California (157,277), New York (61,125), Florida (50,158), Texas (40,190) and Michigan (28,248). Their share is disproportionate, as these states constitute only 36 percent of the total U.S. population.

The stereotype of homeless populations being predominantly male and urban has been turned around with this recession. More and more families -- young mothers with kids -- are finding themselves without shelter. According to HUD's assessment, women make up 81 percent of adults in homeless families, and unlike homeless men, who are usually middle-aged, homeless women tend to be younger than 25 with children younger than 5.
The geography of homelessness is also shifting. Stories from this recession have included those about the growing number of Hooverville-esque tent cities that have popped up in urban centers across the country, including Southern cities such as Miami, Nashville, Atlanta and New Orleans.
The rise in homelessness, worsened by the rising foreclosures and job layoffs, has taken its toll on the rural South as well. Many of states that experienced the largest increases in homelessness were predominately rural, according to the report. But these cash-strapped rural areas are less able to deal with the new wave of homeless. In Mississippi, for instance, the number of homeless increased 42 percent last year. Nationally, the number of homeless people in rural and suburban areas jumped sharply during 2008 -- 32 percent of all people in shelters and in need of housing compared with 23 percent in 2007, according to the HUD report. In rural and suburban areas the number of homeless families jumped by 56 percent.
"This report dispels the myth that homelessness is exclusively an urban problem," said HUD Secretary Shaun Donovan. "Today's housing crisis is putting particular pressure on families with children who are living in suburbs and rural areas."
HUD's annual report assesses changes in homelessness nationwide. In addition to the annual report, the department is now measuring homelessness on a quarterly basis to gain a better understanding of the impact of the current economic crisis. The first "
pulse report
" features results from nine areas of the country, including parts of Louisiana, Kentucky and Florida. It found that, overall, 55 percent of all the homeless were families with children.
The pulse report contains an interview with a western Kentucky emergency shelter provider, giving insight to the growth of homelessness there:
I would like to share with you some of the issues I have personally seen over the past few months relating to the dismal economy and its toll taken on the homeless population.... After the ice storm, which interfered with the point-in-time count, we saw a slight decline in numbers. I truly thought our shelter would have been inundated, but it was the complete antithesis. We had our numbers of those who were here before the ice storm took place, but [starting] about a month or month and a half ago, our phones have not stopped ringing. We have had to turn away or refer families of 4-6 people due to our now full capacity shelter. We have kept record of the waiting list, which continues to grow. About one month ago, our waiting list was growing faster than I could make referrals. One day last month, we had to turn away 3 families due to full capacity.

Because HUD has traditionally emphasized investing in programs to reduce the ranks of single people living on the streets, homeless advocates point out that states must begin to come up with new strategies to deal with homeless families and their needs.
The Obama Administration's $787 billion economic-stimulus package allots
$1.2 billion
for homeless families and homelessness prevention. The funds, which were released by HUD last week, will go to states and localities to be used for services like rent relief and housing relocation for the homeless. The Associated Press took a
state-by-state look
at cities, counties and communities where stimulus money will be distributed to combat homelessness.
Here's the rundown by state:
Alabama: $13,328,942
Arkansas: $10,530,746
Florida: $21,507,109
Georgia: $19,084,426
Kentucky: $12,157,352
Louisiana: $13,541,639
Mississippi: $13,348,427
North Carolina: $22,157,468
South Carolina: $11,136,176
Tennessee: $13,467,433
Texas: $41,472,772
Virginia: $11,389,160
West Virginia: $7,977,649