Gov. Barbour's questionable climate accounting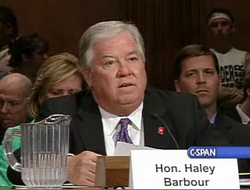 The U.S. Senate Committee on Environment and Public Works held a
hearing yesterday
on the Waxman-Markey climate bill that recently
squeaked by the House of Representatives
. The bill would cap greenhouse gas emissions and create a market where investors could trade carbon pollution permits.
Among those who testified was Mississippi Gov. Haley Barbour (R), who spoke following an opening panel with administration brass including Energy Secretary Steven Chu, Environmental Protection Agency Administrator Lisa Jackson, Agriculture Secretary Tom Vilsack and Interior Secretary Ken Salazar. He testified separately from the second panel he was supposed to take part in because of scheduling issues.
Barbour is certainly a busy man these days, serving not only as Mississippi's governor but also as chair of the Republican Governors Association since South Carolina Gov. Mark Sanford
resigned the chairmanship
following revelations about an adulterous affair.
Perhaps Barbour's newly hectic schedule is also to blame for the questionable accounting in his testimony. He opened by talking about the current economic crisis, high unemployment rate and fast-growing national debt and then went on to argue that Waxman-Markey would impede economic growth by raising energy bills:
The cap and trade tax, the $81 billion of tax increases on the oil and gas industry contained in the President's budget and the Waxman-Markey renewable energy standard would all drive up costs and drive down economic growth.

Barbour discussed at length the costs related to the climate bill -- and make no mistake about it, it will cost money to clean up greenhouse gas pollution. A
recent analysis by the nonpartisan Congressional Budget Office
found that while Waxman-Markey would benefit the poorest 20% of households by $40 per year, it would cost the average U.S. household about $175 a year by 2020.
But at the same time, there are considerable costs associated with not taking action to curb greenhouse gas pollution and related climate disruption -- and nowhere in his
testimony
did Barbour mention them.
Last month we
reported on a new federal study
that looked at the impacts that pollution-related climate change is already having on the various U.S. regions including the Southeast, which has experienced a 2 degree F. increased in its average annual temperature since 1970 and an increase in heavy downpours. If nothing is done to limit carbon emissions, models predict continued warming, with average temperatures in the region expected to rise by at least 4.5 degrees F. by the 2080s.
These changes would have devastating effects not only on the region's ecology but also on its economy. The increased heat along with related disease problems is expected to cause a decline in yields in the cattle and dairy operations in areas of the Southeast including the Mississippi Delta -- as much as a 10% drop under some emission scenarios, according to the report.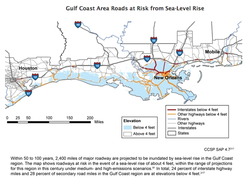 Another factor driving costs in the disrupted climate is acceleration of sea-level rise, which allowed to continue would cause further problems in coastal states like Mississippi. The report notes that intensified storms due to higher seas have already proven costly to Barbour's state, where the state Department of Transportation is expected to spend more than $1 billion to replace the Biloxi and Bay St. Louis bridges damaged in 2005's Hurricane Katrina. The report includes a map (
at right, click for larger version
) showing Gulf Coast area roads at risk from sea level rise including Interstate 10 through Mississippi.
So why would Barbour ignore one entire side of the balance sheet when doing his climate change accounting -- tallying up only the costs related to climate action but overlooking the costs of inaction?
Could it have anything to do with his long and deep financial relationships with dirty energy interests?
The folks at the
Climate Progress blog examined that question
, assembling a dossier on Barbour's dirty energy connections:
* The oil and gas and utility industries were major contributors to Barbour's Mississippi gubernatorial campaigns, donating more than $1.8 million,
according to the National Institute on Money in State Politics
.
* Barbour Griffith, the prominent Washington lobbying firm the governor once headed, brought in millions of dollars from clients that included coal companies, electric utilities, and oil and gas firms,
reports the Center for Responsive Politics
.
* When Barbour chaired the Republican National Committee from 1993 to 1997, Republicans received almost three times the amount of contributions from the oil and gas industry as Democrats -- $30 million compared to $12 million, according to CRP.
* And at the 2008 Republican National Convention, Barbour
hosted a party with the Southern Co.
, a coal-fired electric utility giant he once lobbied for. The company had the largest force of lobbyists seeking to influence the Waxman-Markey legislation, according to
a recent report by the Center for Public Integrity
.
Meanwhile, Barbour has not offered any proposals to cut greenhouse gas pollution at the levels scientists say is necessary to prevent catastrophic climate disruption. With the governor being talked about as
a possible presidential candidate in 2012
, we wonder what kind of short-sighted accounting the U.S. would be subjected to under his watch.
Tags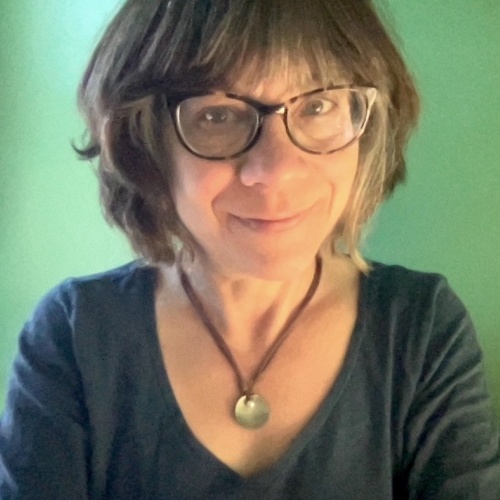 Sue is the editorial director of Facing South and the Institute for Southern Studies.