By Paul. A. Greenberg, Greenberg Rants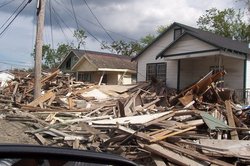 Seven weeks after Hurricane Katrina, upon returning from exile, a friend of mine took me to see the edge of Lake Pontchartrain. It is where old, established New Orleans seafood restaurants were located. "Let's go to the lakefront and eat some crawfish," was part of the easy local lexicon. A long line of old clapboard buildings lined the lakefront, along with a couple that had been built more recently -- meaning sometime in the last 40 years or so. You could get lucky and grab a table outside and spend the evening talking and drinking and eating Louisiana seafood. You could watch the sun set on the lake, or watercraft buzzing by. Sometimes people would drive their boats right up to the restaurant, disembark and have dinner. It was a lovely part of the city.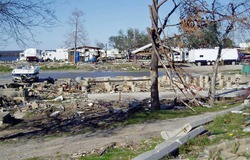 When my friend took me to see it after the storm (
left
), there was no trace whatsoever of anything that had been there. Not an intact board or rooftop, not one recognizable thing. I lost my bearings for a few moments, actually not being able to figure out exactly where I was. It was a barren space that just looked out over the water. All traces of the "forget your troubles" kind of a place this used to be were eradicated. Of all the post-Katrina moments I have had, that may have been one of the most devastating. Standing there taking it in I was struck by the fully unwelcome silence of the place. Standing in the exact spot where the old restaurants had been, my friend and I looked at each other and quietly we knew this was one of those "you had to be there moments." Nobody who isn't here is going to understand how this feels.
Fast forward almost four years later: It Is July 1, 2009 and the U.S. Census bureau reports New Orleans is the fastest growing city in the United States. Last year alone, the population in New Orleans grew by 8.2 percent. We have about 311,000 people now. That is, however, down from approximately 484,000 in the 2000 census. Still, I can report that New Orleans feels more like itself, finally. The population no longer feels sparse, as it did for the first couple of years after the storm.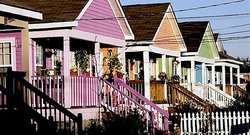 The city looks better, but if you get out into some of the outlying areas, such as New Orleans East and the Lower 9th Ward, things are still rough. In some places, not a lot of progress has been made. The much ballyhooed "Musician's Village," (
right
) a housing development for local musicians, spearheaded by Harry Connick, Jr., is a sight to behold. Amazing. But spitting distance from there, for years after Katrina, was the graveyard for all the New Orleans Police Department vehicles killed by the floods. You can see some new housing developments in New Orleans East, but the Lake Forest Plaza Shopping Mall, once a commercial hub, was virtually destroyed by the hurricane and the subsequent flooding. It sits as a giant reminder of nature's wrath.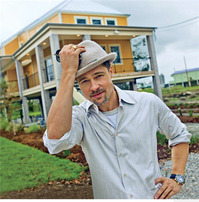 In the Lower 9th, Brad Pitt's
Make It Right Foundation
is doing a phenomenal job in raising money and building highly innovative, storm-resistant homes. But a stone's throw from the development you can drive down streets in the Lower 9th that look like Katrina hit yesterday. The grass may be higher, but the devastation remains visible. If you have been here before, the devastation tells a sad story. Part of a house remains that was built a century ago, and across the street are the remains of the home of the first house's descendants. Just down the street might be a pile of rubble that once housed the grandchildren. This was a community that had rich family heritage. There was no great wealth here; no one boasts of a U.S. President hailing from the Lower 9th, but there is important cultural history here, just the same. So why, four years later, is it all still crumbling foundations, waist high weeds and nothing but memories?
Recent reports indicate there are approximately 3,800 vacant properties in the Lower 9th. If you are not in New Orleans, what you do not know is that you can walk right up to some of the smashed houses, look in the windows and still see dishes in the sink from August 29, 2005, or clothes hanging neatly in closets -- the door may be torn off but the garments are still there, waiting. The homeowners are still spread far and wide from Texas to Maine, Virginia to California. Those who are back often live on blocks where theirs is the only inhabited house. It is not uncommon to see residents whose houses show signs of repairs that were started, but then stopped. Often that has much to do with contractors who took their money and ran, without completing the job. An over-taxed, under-financed District Attorney's office in Orleans Parish has countless such cases waiting to be settled.
Elsewhere in the city, the Army Corps of Engineers came forward recently to admit that it is running behind on 13 levee repair projects. Some of these projects were not due to be completed until 2011, but now may take even a couple of years longer. That is, unless we have a Katrina-like storm that decimates even more of the existing levee system. The government allocated $15 billion to repair the levees, but that figure was tied to a repair schedule the Corps can no longer meet. If the levee repairs cost more than originally anticipated, no one knows from where the additional funding will come.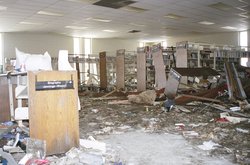 Meanwhile, earlier this year, Senator Mary Landrieu (D-LA) reported that much of the money allocated for repairs throughout the Gulf Coast region was tied up in red tape. FEMA promised $5.8 billion to repair roads, schools, libraries, sewer systems and other infrastructure, but a good portion of the rebuilding has yet to begin. Meanwhile, the facilities that should have been repaired by now continue to rot. How long do government officials think an old school building or library with all of the windows blown out (
above, right
) can sit idle before it is not longer repairable? Or, perhaps that is the wrong question. Maybe the real question is: Do government officials think about the Gulf Coast and/or New Orleans anymore? Or are we yesterday's news?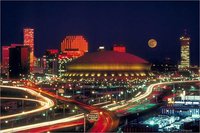 The answer depends on your location. If you are anywhere outside of the Gulf Coast, Hurricane Katrina is history. However, those of us who live in New Orleans, or the surrounding areas, see Katrina in present tense. A Katrina-like catastrophe could happen in Anytown, USA. Maybe even your town. And once it does, be aware that you will ultimately be out there on your own -- even if you live in the "fastest growing city in the United States." 
Paul A. Greenberg is a New-Orleans based journalist. You can view his blog at GreenbergRants.blogspot.com.