Repeating the past's mistakes? FEMA still lacks a viable disaster housing plan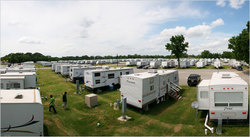 A month into the 2009 hurricane season, and almost four years since hurricanes Katrina and Rita blew threw the Gulf Coast, federal authorities still aren't ready to handle another Katrina-scale disaster.
On Wednesday, Federal Emergency Management Agency representatives testified before lawmakers at a House hearing, detailing how FEMA is not ready to provide emergency housing in the event of a massive hurricane or an earthquake, nor does it have a coordinated plan to quickly get people permanent housing after such a disaster.
In fact federal authorities could repeat some of the same mistakes that followed Hurricane Katrina unless it establishes a better plan for housing people after major disasters. According to Homeland Security inspector general Richard Skinner, FEMA relies too heavily on costly programs to provide trailers and mobile homes to survivors.
"FEMA does not have sufficient tools, operational procedures, and legislative authorities to aggressively promote the cost-effective repair of housing stocks, which would increase the amount of housing available and likely limit increases in the cost of housing, particularly rental rates," Skinner said in his
testimony
.
Lawmakers also want to see a more comprehensive plan to address the continued dislocation of the families along the Gulf Coast. The government's inability to swiftly and cheaply repair damaged housing, especially rental housing, and the inability to quickly get people into permanent housing, has ensured that marginalized communities have suffered the most in the continued housing crisis along the Gulf Coast. Several thousands of poor residents and communities of color are still displaced and locked out from returning to their Gulf Coast communities due to the lack of affordable housing and support for transitioning back into permanent housing.
It's a systematic problem from start to finish. According to Skinner, all too often, families displaced by disasters are usually forced into temporary housing because the states aren't willing to restore low-cost housing. Yet federal and local government's reliance on temporary housing, as opposed to permanent housing, has been wasteful and a barrier to rebuilding.
As the Associated Press
reported
:
Not only does temporary housing leave communities unsettled -- thousands of families have been living in limbo along the Gulf Coast for several years -- but it is wasteful, [Skinner] said.

FEMA, for example, sometimes spent more than $100,000 after Katrina to keep a family in a temporary trailer for 18 months and has paid rent for thousands of families for more than three years. But it is restricted from spending significant amounts to repair permanent housing.

Skinner said FEMA is hamstrung by federal laws limiting its role in the broader rebuilding effort. He recommended that FEMA be given more leeway in facilitating permanent housing and that the Housing and Urban Development Department take over responsibility for housing assistance at some point after FEMA's initial response.

"FEMA needs better alternatives that quickly restore housing stocks," Skinner said.