Report finds detainees' rights routinely violated in U.S. immigrant detention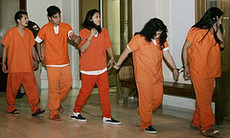 The U.S. Immigration and Customs Enforcement agency has been systematically violating its own minimum monitoring standards in regulating immigration detention centers across the country, according to a new
report
released Tuesday. The report is based on an analysis of previously unreleased inspection data on dozens of ICE facilities between 2001 and 2005. 
In recent months, Facing South has
reported
on the problems in U.S. immigrant detention, highlighted by the mounting number of immigrant deaths in ICE detention centers. For the past year, reports of abuse, neglect, inhumane treatment, and inadequate health care in immigration custody have been surfacing across the country. Immigrant rights groups have criticized ICE's detention standards and inspection procedures, and have also steadily lodged complaints about detainees' rights being violated. 
The new report, authored jointly by the the National Immigration Law Center, the American Civil Liberties Union of Southern California, and the Holland and Knight law firm, confirmed detention centers routinely had "widespread and severe violations," and the government failed to enforce even its own minimum standards. 
According to the report, detainees were denied adequate access to attorneys and legal materials, and had limited access to phones, mail and law libraries, in violation of federal standards. Detainees find themselves unable to access the resources that would allow them to defend themselves in court and to fight to remain in the country. 
The report said the expansion of immigration detention in recent years has exacerbated the problems in the unregulated detention system. ICE oversees a network of federal centers, county jails and privately-run, for-profit prisons that detain and process undocumented immigrants; more than 31,000 immigrants (up from about 20,000 in early 2006) were incarcerated in the U.S. on any given day in 2008. Many of these facilities are located in the South and Southwest.
Facing South has
reported
on the large-scale immigration raids that have swept across the country in the last couple of years. Over the past couple of years, immigrant detention has become the nation's fastest-growing form of incarceration. The number of people detained has soared to more than 300,000 a year. Yet, human rights advocates point out that many of the private detention facilities, federal facilities and local jails that partner with ICE to house the overflow are problem-riddled and lacking in oversight, even as new centers, such as the Corrections Corporation of America-run facility set to open in Gainesville, Ga., continue to pop up. 
As the report
underscored
:
There is no question that the nation's immigrant detention system is broken to its core. The findings in this report, as well as those recently documented by various government and independent agencies, reveal pervasive and extreme violations of the government's own detention standards as well as fundamental violations of basic human rights and notions of dignity.
Even though the federal government has standards setting out basic requirements for detention, immigrant advocates say that detention standards are so frequently violated because they are not enforceable (meaning noncompliance carries no real penalties). Rights groups are calling on federal lawmakers to make legally-binding standards, but that could be a long time coming. As the New York Times
reports
, immigrant rights groups suffered a major blow last week when the Obama administration refused to make legally enforceable rules for immigration detention, rejecting a federal court petition by former detainees and their advocates and embracing a Bush-era inspection system that relies in part on private contractors.