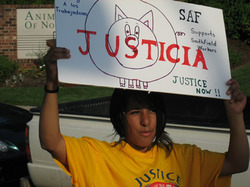 Workers at the Smithfield Packing Co. pork plant in Tar Heel, N.C., accepted a four-year labor contract after two days of voting, the United Food and Commercial Workers said in a
statement
Wednesday.
Virginia-based Smithfield Foods and the UFCW reached an agreement on the contract last week after five months of negotiation. This is the first union contract for the approximately 4,600 workers at the plant.
Over the years Facing South has reported on the 17-year battle to unionize the Smithfield Foods packing in Tar Heel. In December 2008, by a vote of 2,041 to 1,879, workers at the massive hog plant
voted to unionize
in what had become one of the most closely-watched labor battles in the country. But it was a long journey to get there.
Smithfield worked hard to keep the union out of the Tar Heel facility, the largest pork plant in the world, using fear and intimidation to keep workers in line. In this hostile climate, Tar Heel plant workers tried twice in the 1990s to organize, and Smithfield responded with illegal union-busting tactics to interfere with the vote -- including firings, worker surveillance, deportation threats, sexual harassment, intimidation and violence. Workers labored under poor conditions and at unsafe production line speeds, leading to scores of injuries. Workers, the majority of whom are Black and Latino, were routinely denied worker's comp for job-related injuries. Labor advocates argued that better labor laws, such as would be provided by the Employee Free Choice Act, could make
a difference
in cases like Smithfield.
The hard-fought for contract, which will take effect immediately,
includes
:
Wage increases of $1.50 an hour over the next four years.
Continued company-provided affordable family health care coverage.
Improved paid vacation benefits.
Retirement security through an existing pension plan.
Continuation of a joint worker/management safety committee, including safety training for workers.
Guaranteed weekly hours.
A system to resolve workplace issues.
Three working days of paid funeral leave following the death of immediate family members.