UN group examines post-Katrina housing crisis in New Orleans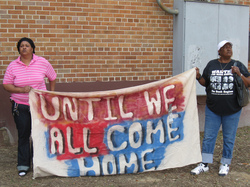 An United Nations advisory group headed to New Orleans this week on a fact-finding mission to investigate housing issues related to the displacement of residents following Hurricane Katrina.
While post-Katrina redevelopment policies have had a disproportionately adverse impact on poor and low-income African American communities, the ongoing lack of affordable housing, and the evictions to make way for private sector development, is a significant issue for all residents of New Orleans and the Gulf Coast. 
When they leave New Orleans, the U.N. advisory group will be traveling to Washington to meet with federal disaster-recovery officials. The group will also prepare a final report to UN-HABITAT, the United Nations agency charged with monitoring poverty and housing.