VOICES: An independent corporate front group?
By Phil Mattera, Dirt Diggers Digest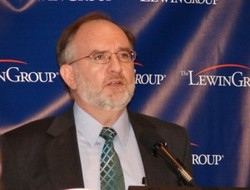 Would a consulting company owned by Exxon be considered an impartial source of analysis on global warming, or would such a firm owned by Xe (formerly Blackwater) be regarded as a good judge of federal policy on the use of mercenaries? Probably not; in fact, they would, in all likelihood, be seen as front groups for the interests of their corporate parents.
Then how is it that one of the most influential consulting firms on health care policy is the
Lewin Group
, which is owned by a subsidiary of UnitedHealth Group, the largest of the for-profit medical insurance corporations and thus a very interested party when it comes to the current deliberations in Congress on major health care reform?
Lewin
claims
to be "objective" and "impartial," but some of its analysis is repeatedly being used in very partisan ways by Republican members of Congress (such as
John Boehner
and
Orin Hatch
) and conservative commentators (the
Heritage Foundation
and
Rich Lowry
of National Review) to attack the idea of a public option in legislation that would seek to provide coverage to the uninsured. They typically do not mention Lewin's relationship to UnitedHealth, which will benefit greatly if the public option is eliminated.
Those seeking to shield for-profit insurers from a competing federal plan are trumpeting Lewin
research
purporting to show that the existence of at least some versions of a public option would result in a mass exodus from employer-provided plans with higher premiums. Lewin claims that some 119 million of the 171 million people covered by employer plans could migrate to Uncle Sam's offering. Given the assumption that taxpayers will be subsidizing participants in the public plan, such a shift is seen as creating a fiscal disaster for the federal government and the collapse of private plans. The rabidly pro-corporate group Conservatives for Patients' Rights uses the Lewin research in a
TV ad
that depicts a public plan as a bulldozer that could "crush all your other choices, driving them out of existence."
Lewin insists that it has "editorial independence," but it is difficult to believe that its judgments are not influenced by the identity of its corporate parents. Its immediate parent, by the way, is
Ingenix
, a major player in healthcare information technology, especially billing systems. Ingenix, of course, also has a vested interest in protecting the for-profit medical bureaucracy.  Ingenix and its parent UnitedHealth have paid out
hundreds of millions of dollars
to settle class-action lawsuits stemming from
investigations
spearheaded by New York Attorney General Andrew Cuomo charging that Ingenix promoted a database product that allowed insurers to underpay their members when reimbursing for out-of-network expenses.
Lewin was in existence for three decades when Ingenix and UnitedHealth acquired it in 2007. It's interesting that before that deal Lewin was often in the news in connection with reports it produced for states such as
California
,
Hawaii
and
Vermont
showing the potential benefits of state single-payer systems. The firm released one such report (for
Colorado
) after being acquired by Ingenix, but these days Lewin seems to focus more on the hazards of expanded government involvement in healthcare. Lewin Senior Vice President John Sheils (photo)
told the Associated Press
that "the private insurance industry might just fizzle out altogether" if a public option were enacted.
Sheils insists he is impartial, but he has been aggressive in spreading the word about the potential drawbacks of the public option. He
confronted
President Obama directly on the issue last week as one of the questioners in an ABC News special whose host, Charles Gibson, seemed
determined
to bash government involvement in health insurance.
The Lewin Group acquisition added an insignificant amount to UnitedHealth's annual revenues but it turned out to be a valuable investment for the $80 billion insurance giant. While playing the role of a neutral analyst, the consulting firm is in reality defending the interests of its corporate parents and the rest of the for-profit health insurance business. The most effective business front group is one that believes it is independent.