Without unemployment aid, residents in Miss. and Ala. face hard decisions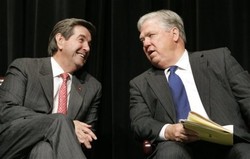 Some unemployed residents of Alabama and Mississippi are finding themselves ineligible to receive unemployment benefits, new casualties of the battle between their state governors and the federal stimulus,
reports
the The Wall Street Journal.
During the past few months the South has been the epicenter for conservative governors waging battle against the federal stimulus. As Facing South
reported
, rejecting unemployment benefits became a carefully-played political move for a handful of Southern governors, who argued that unemployment funding came with "too many strings" attached.
The unemployment aid provided in the federal stimulus makes it easier for more jobless people to qualify for benefits and receive funds for longer periods of time, while also providing coverage for laid-off part-time and seasonal workers. Several states required a change in state law to qualify for the aid, including a significant overhaul of outdated unemployment systems to ensure accurate counting. 
Alabama would have received some $99 million in federal stimulus money as benefits. In early April, Alabama state lawmakers passed a resolution calling for the state to accept the stimulus funds, but Riley refused to sign the resolution, saying that the legislature must change state law for Alabama to qualify. Because the legislature hasn't rewritten the law yet, Riley argues that the resolution is meaningless.The stimulus aid would have expanded eligibility and enabled some 20,000 more unemployed people to qualify for benefits in Alabama. Alabama's unemployment rate was 9.8 percent in May, the highest in nearly 25 years and more than double the rate from a year ago.
Mississippi Republican Gov. Haley Barbour similarly rejected some $56 million from the stimulus for unemployment benefits. The Mississippi state legislature had the power to overrule Barbour's decision with a joint resolution, but the motion did not pass in the Senate. Last spring, community advocates
launched an online campaign
 called "
Standing with Mississippi
" that includes a petition urging Barbour to change his mind and to accept the $56 million in unemployment insurance benefits that could help some 40,000 people get through the recession. Mississippi's unemployment rate rose to 9.6 percent in May. 
Most states across the country have signed on to make the changes in their unemployment systems to receive the aid. As the Wall Street Journal
reported
:
Since the stimulus bill was passed, 25 states have overhauled their systems. In all, 33 states and Washington, D.C., now qualify for funds from the so-called modernization act, and seven more have introduced or are contemplating legislation that would make them eligible. 
Alabama and Mississippi are the only two states that rejected the modernization act, as well as a separate program that would extend benefits by 13 to 20 weeks for people who exhaust their benefits but haven't found a job.
Without the aid, jobless residents in Mississippi and Alabama are finding it harder and harder to get by. 
According
to the Wall Street Journal: 
Laura Perry, an executive secretary in Mississippi who lost her job last year, said, "It is outrageous that the rest of the country is getting these benefits and we are left out." After her benefits expired in May, she sold her living-room set. She has been soliciting sponsors to help pay for her son's trips with his school basketball team.