4 Years After Katrina: Housing crisis continues, low-income renters face discrimination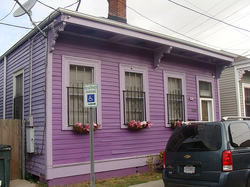 A
report
released Thursday by the
Greater New Orleans Fair Housing Action Center
finds high rates of discrimination in the city's Section 8 housing program for low-income renters.
The GNOFHAC report documents the massive discrimination in "both intent and impact" against low-income African Americans using the housing choice voucher program, commonly known as "Section 8," to rent in the New Orleans area.  
Section 8 is a federally funded and city-administered program that provides rental housing assistance to low-income residents. As the GNOFHAC report notes, the idea behind these vouchers is to provide residents with "more housing choices, that might ultimately help to de-concentrate poverty and better integrate neighborhoods." Under the program housing voucher holders secure rental housing from private housing providers and contribute up to 30 percent of their income to cover the cost of rent. The idea is that low-income residents would be given the opportunity to live in middle and upper-middle income communities. 
According to the GNOFHAC report, the reality is far from this case in New Orleans, where landlords are refusing to rent to families with Section 8 vouchers a whopping
82 percent
of the time, either by "outright refusal to accept vouchers or by the addition of insurmountable requirements for voucher holders making it impossible for voucher holders to rent units." 
As the report explains, following Hurricane Katrina the Housing Authority of New Orleans, which administers the Section 8 program, and the U.S. Department of Housing and Urban Development began to aggressively further "a campaign that involves an increased reliance on tenant-based vouchers in the New Orleans area with the demolition of the B.W. Cooper, C.J. Peete, Lafitte, and St. Bernard housing developments, and the planned redevelopment of mixed-income communities with significantly fewer public housing units."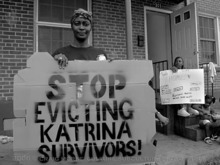 Promoted as a way to de-concentrate poverty, the move away from traditional public housing complexes to "mixed-income" housing has been unfolding across the country. Facing South
reported
 on New Orleans' controversial decision to raze the city's "Big Four" public housing projects starting in 2007. 
Community members and grassroots groups protested the city's decision, but in the end the city's demolition of New Orleans' public housing eliminated some 4,500 public housing units at a time when thousands of residents were struggling to find affordable housing and thousands of others were wait-listed for low-income housing in the city. 
Advocates point out that low-income residents are often locked out of the new mixed-income developments, since only a small portion of these units are set aside for subsidized housing. 
In New Orleans thousands of former public-housing residents will not have the opportunity to return to the new mixed-income developments. The report offers the example of the St. Thomas housing projects, which were razored and replaced with the mixed income River Garden apartments. About 1,500 low-income families resided at St. Thomas before Katrina. But River Gardens only houses about 246 low-income families. 
The remaining low-income families from St. Thomas received Section 8 vouchers and were told to rent apartments across New Orleans. But with "alarming" rates of discrimination against voucher holders, in essence, these low-income families now have few options; they are locked out of their old homes and denied the chance to rent in other properties, particularly in middle-income neighborhoods. 
Currently some
9,000 households
in the New Orleans area participate in the Section 8 program, 99 percent of whom are African American. The GNOFHAC report explains that much of the discrimination against voucher holders is driven by racism and stereotyping of low-income, African Americans. The report found that several landlords accepted vouchers from white women but then told black women that they didn't accept vouchers.
According to the study, the racial discrimination is further exascerbated by HANO's disfunctional administration of the voucher program, which deters landlords from participating in the program. Landlords interviewed by GNOFHAC researchers said that HANO is notorious for being unresponsive and for not making rental payments. 
As Facing South 
covered
, HANO has had a long, troubled history in New Orleans. That continues to remain the case today. The Times-Picayune recently 
reported
: 
In recent months, HANO has also been criticized for holding onto thousands of vouchers that could be used by low-income tenants struggling to pay steep post-Katrina rents. As of July, HANO had signed leases and issued contracts with 9,563 voucher families out of an allocation from the U.S. Department of Housing and Urban Development that totaled 13,370, according to HANO data.
The GNOFHAC report concludes that because federal and regional housing policy is increasingly relying upon the voucher program as a solution to New Orleans' affordable housing needs, it is critical that lawmakers and city officials "confront prejudice harbored against voucher holders and rectify the disfunctional administration of the program." 
In New Orleans, discrimination against housing voucher holders in the rental market is worsening an already harsh affordable housing crisis amongst low-income residents. Four years after Hurricane Katrina, a lack of affordable housing is still one of the primary barriers to rebuilding in the
still-struggling New Orleans area
. 
Hurricane Katrina damaged or destroyed nearly 52,000 rental units in the city and the homeless population has doubled to about 12,000. Affordable housing is in crisis and may not be improving -- New Orleans is set to only rebuild about one-third of its pre-Katrina affordable rental housing stock. Low-income communities and the poor are finding it 
harder that ever to return to the city
.
As Facing South
reported
, displaced residents looking to return to the city to find those remaining sources of affordable housing now must also confront skyrocketing rental rates (HUD estimates that average rents in the city have risen by more than 52 percent since Katrina).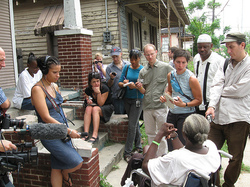 The New Orleans housing crisis was even the subject of a recent United Nations human rights fact-finding mission. In July, the Advisory Group on Forced Evictions, a group of international housing experts,
met with and interviewed New Orleans residents
struggling with affordable housing issues. 
Despite these tremendous obstacles, as Colorlines recently
reported,
 many former New Orleans residents are still trying to return home:
"The recovery is not happening in the interests of low-income people, but they are coming back because of ties to culture and family," said Saket Soni, director of the New Orleans Workers' Center for Racial Justice.
Those who are returning are living with relatives or staying in shelters, abandoned homes or on the streets, according to Tamar McFarlane, who organized in New Orleans's tent cities and shelters with the Workers' Center.
(Images: 1. New Orleans' house, photo by
Squandered Heritage
's 
Karen Apricot
; 2. Public housing residents fight evictions, photo by Craig Morse; 3. AGFE Fact Finding Mission on NOLA Housing Crisis, photo by
NESRI
)