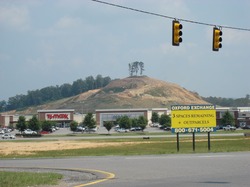 Following local protests and international outcry, the city of Oxford, Ala. appears to be backing away from plans to destroy an ancient and archaeologically significant Indian mound in order to use the dirt as fill for a new Sam's Club, a retail warehouse store operated by Wal-Mart.



A local landowner says his property will now serve as the source for construction fill dirt, according to the Anniston Star:
Landowner Charlie Williams confirmed to The Star Wednesday that Oxford-based Taylor Corp. is negotiating with him for dirt for the Sam's site. The company has the contract to do site prep work for Sam's Club. He said the dirt would come from his property on McIntosh Road in Oxford. He said he has not received money for the dirt but expects to eventually.
The paper also reports that a sinkhole has been discovered at the Sam's Club construction site. The city's Commercial Development Authority -- the force behind the controversial construction project -- has authorized setting aside $350,000 to reimburse Sam's Club for the cost of fixing the hole.

As Facing South reported earlier this month, the demolition of the 1,500-year-old structure drew protests from Native Americans and others concerned about the site, which a University of Alabama report found to be historically important as the largest of several ancient stone and earthen mounds throughout the Choccolocco Valley. Preservation advocates have called such structures "prayer in stone."

However, city leaders have disputed the site's archaeological significance, with Mayor Leon Smith insisting it was not man-made and was used only to "send smoke signals." An Anniston Star investigation documented financial ties between the CDA, firms it does business with and Smith's political campaign.

In the meantime, a protest and reconsecration ceremony are is planned for this Sunday, Aug. 30 from 2 to 5 p.m. at the Oxford mound, according to the Alabama-based blog Deep Fried Kudzu.

(Photo of Oxford Indian mound courtesy of Deep Fried Kudzu)