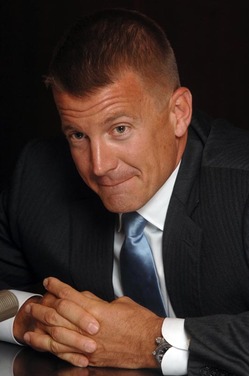 Xe, the North Carolina-based private-security firm formerly known as Blackwater Worldwide, was back in the headlines this week.
The Nation's Jeremy Scahill
broke the story
that two former employees of Blackwater have made shocking allegations accusing Blackwater and its founder and former CEO Erik Prince of serious criminal activity in Iraq, including murder, weapons smuggling and the deliberate slaughter of civilians.
The sworn affidavits were filed this week as part of a civil lawsuit in U.S. District Court in Virginia against Prince on behalf of Iraqi families who say relatives were killed by Blackwater employees. The two former employees who came forward to make the statements say they fear for their own safety if their identities were revealed, and are identified only as "John Doe 1" and "John Doe 2" in the sworn affidavits.
According to the two former employees, Prince either murdered or facilitated the murder of people cooperating with federal authorities investigating the company's actions in Iraq and Afghanistan. In one statement, John Doe 2, who worked for Blackwater for four years, says that Prince "views himself as a Christian crusader tasked with eliminating Muslims and the Islamic faith from the globe."
The two men allege that Blackwater employees routinely attacked and killed innocent Iraqis who posed no security threat, sometimes without informing the U.S. State Department of the incidents. According to their statements,"going to Iraq to shoot and kill Iraqis was viewed as a sport or game" and Prince himself "encouraged and rewarded the destruction of Iraqi life" and intentionally sent like-minded mercenaries to Iraq "to take every available opportunity to murder Iraqis."
According to The Nation, the two men also charge that the company was smuggling illegal weapons into Iraq, using private planes and dog-food bags. The two men say that Prince and other Blackwater executives gave orders to destroy incriminating videos that showed them conducting criminal acts of violence, emails and other documents and have intentionally deceived the State Department and other federal agencies.
On top of murder and arms smuggling, the two men also allege that Blackwater executives at the company's North Carolina headquarters ran a "wife-swapping and sex ring," and that Blackwater guards overseas boasted of their kills, took mind-altering drugs and steroids, and used child prostitutes.
As Facing South has
reported
, the controversial security firm has already faced a series of troubling scandals, including the Nisoor Square tragedy, the 2007 Baghdad shooting in which Blackwater guards opened fired and killed 17 Iraqi civilians. The firm is currently under investigation by the Justice Department for these killings. The shooting at Nisoor Square sparked outrage in Iraq and led to the suspension of Blackwater's right to work in the country.
Prince stepped down as CEO in March, but he is still the company's owner and the chairman of its board of directors. Blackwater, one of the more prominent mercenaries sent to Iraq under the Bush Administration, received more than $1 billion in government contracts for security work, including protecting military convoys and guarding U.S. diplomats in Iraq. The firm was contracted until May 2009 by the State Department, but its contract was not renewed.

(Photo from wikipedia.)