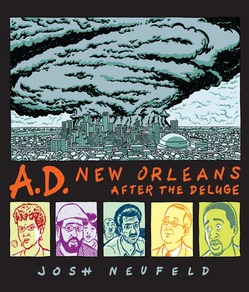 Stories of people surviving Hurricane Katrina and its aftermath continue to flood bookstores.
One new book paints a literal portrait of the days before and after the storm, and further establishes the graphic novel as a growing tool of non-fiction reportage.
In
A.D.: New Orleans After the Deluge
, artist Josh Neufeld tells the story of seven New Orleans-area survivors as they evacuated, remained and later struggled to recover in the days of Hurricane Katrina.
Neufeld is most known for his contributions to Harvey Pekar's "American Splendor" comics. Neufeld was first inspired to work on the Katrina stories when he volunteered with the Red Cross after the hurricane hit, serving as a disaster response worker in Biloxi, Miss., for almost a month. He blogged about his experiences, and in 2007,
Smith Magazine
serialized his comics story of Hurricane Katrina and its aftermath. Neufeld later returned to New Orleans to research and interview seven survivors for the print book.
As the pages progress, "A.D." highlights details that are surprising and vivid. As one character, Abbas, slips into denial about the disaster, his decision to remain behind at his convenience store -- with guns and supplies -- becomes indicative of the American dream. Abbas is not stupid; he is hardworking and fearless, and Neufeld casts him with charm and bravado. Denise, who curses the storm as a "bitch," and the blasé Doctor Brobson, toasting Katrina with a party in the French Quarter, also help humanize a catastrophe that outsizes ordinary understanding. The account of Kwame, shipping off to Ohio for his senior year in high school, simultaneously relates the human ability to adapt and overcome, and the terrible loss of leaving everything behind...
*
Here are a few other recent books: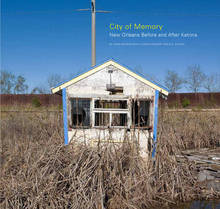 City of Memory: New Orleans, Before and After Katrina by John Wood, 96 pages, Center for American Places (August 2009)
From the publisher:
One year before Hurricane Katrina flooded his childhood home, photographer John Woodin returned to the city that shaped his life. Led by intuition and fading memories, Woodin wandered the neighborhoods of his youth and photographed the architecture of the working poor, documenting the conflict between order and chaos, the effects of poverty and neglect, and the incongruous beauty of decay. The day after the search for Katrina's victims was abandoned, Woodin returned to the same locations he had photographed the year before. Most of the visual landmarks he had relied on were altered or missing, and the neighborhood where he grew up was barely recognizable. Pairing photos of pre - and post - Hurricane Katrina New Orleans, Woodin creates a document of the changes resulting from that natural disaster.
Look and Leave: Photographs and Stories from New Orleans' Lower 9th Ward by Jane Fulton Alt, 96 pages, University of Georgia Press (September 2009)
From the publisher:
As a participant in New Orleans' "Look and Leave" program, Jane Fulton Alt accompanied Lower Ninth Ward residents back to their homes for the first time since fleeing Hurricane Katrina. Alt's photographs and stories reflect the intense drama of the epic loss this community endured while highlighting lasting hope and inspiration. It is through Alt's social worker's compassion and keen photographer's eye that we are given a better understanding of what it meant to be a resident of the Lower Ninth Ward of New Orleans immediately following Hurricane Katrina.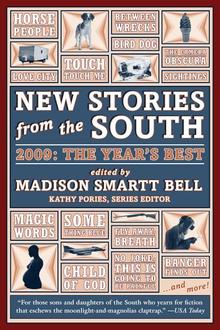 New Stories From the South 2009, edited by Madison Smartt Bell, 357 pages, Algonquin (August 2009)
From the publisher:
In the twenty-fourth volume of this distinguished anthology, Madison Smartt Bell chooses twenty-one distinctive pieces of short fiction to tell the story of the South as it is now. This is a South that is still recognizable but no longer predictable. As he says, "to the traditional black and white recipe (ever a tricky and volatile mixture) have been added new shades and strains from Asia and Central and South America and just about everywhere else on the shrinking globe." Just as Katrina brought out into the open all the voices of New Orleans, so the South is now many things, both a distinctive region and a place of rootlessness. It's these contradictions that Madison Smartt Bell has captured in this provocative and moving collection of stories.
A Paradise Built in Hell: The Extraordinary Communities that Arise in Disaster by Rebecca Solnit, 368 pages, Viking Adult (August 2009)
From the publisher:
Why is it that in the aftermath of a disaster- whether manmade or natural-people suddenly become altruistic, resourceful, and brave? What makes the newfound communities and purpose many find in the ruins and crises after disaster so joyous? And what does this joy reveal about ordinarily unmet social desires and possibilities? In A Paradise Built in Hell, award-winning author Rebecca Solnit explores these phenomena, looking at major calamities from the 1906 earthquake in San Francisco through the 1917 explosion that tore up Halifax, Nova Scotia, the 1985 Mexico City earthquake, 9/11, and Hurricane Katrina in New Orleans. She examines how disaster throws people into a temporary utopia of changed states of mind and social possibilities, as well as looking at the cost of the widespread myths and rarer real cases of social deterioration during crisis.
The Southern Cross by Skip Horack, 242 pages, Mariner/Houghton Mifflin Harcourt (August 1009)
From Publishers Weekly:
"This collection vividly depicts life on the pre- and post-Katrina Gulf Coast. In The Journeyman, Clayton, reluctantly preparing to head out for a three-month stint of work in South America, meets a young girl, Kenyatta, who warns him that God and Jesus are going to punish the people of New Orleans and destroy the city. Amused by her earnest warning, Clayton chuckles and thanks her for the heads up. In The Redfish, Luther, recently released from prison after a wrongful murder conviction (he has committed murder, just not the one he was convicted of), gets tangled up with a no-good woman and ends up bound and gagged with his now-ex-girlfriend's mother in her trailer as Katrina approaches. In Junebelle, June, a reclusive widow unhappily stuck in a Baton Rouge retirement home after her well-meaning daughter installed her there, avoids interaction with the other residents and spends much time in fond remembrances. Throughout, water is a force, at times standing in for death, at others for peace and beauty. Horack takes in a wide swath of varied characters and finds the common humanity in their struggles."
The Year Before the Flood: A Story of New Orleans by Ned Sublette, 496 pages, Lawrence Hill Books (September 2009)
From Publisher's Weekly:
"Musician, musicologist and longtime New York resident, Sublette revisits his Southern roots and recounts a 2004-2005 pre-Katrina research sojourn in New Orleans in this blunt, eloquently humane and musically astute memoir--a worthy companion to his acclaimed The World That Made New Orleans, a music-laden cultural history of the city to 1819. Sublette delves into some quintessential dynamics of modern American popular culture--including racism and poverty as well as restive imagination and invention--through the prism of his childhood in virulently segregated, early rock 'n' rolling Natchitoches, La., and the fraught but idiosyncratic culture he finds in pre-flood New Orleans. If discussions of Elvis, early rock 'n' roll and hip-hop millionaires straight out of New Orleans's projects inevitably rehearse familiar narratives, Sublette carefully marks them out as part of a larger personal and social landscape. Sublette's sensitivity to the precariousness of a system that collapsed completely after he returned to New York is more than mere hindsight; his worldview dovetails movingly with his turbulent and alluring subject and its dogged rebirth.
Zeitoun by Dave Eggers, 342 pages, McSweeney's (July 2009)
From the publisher:
When Hurricane Katrina struck New Orleans, Abdulrahman Zeitoun, a prosperous Syrian-American and father of four, chose to stay through the storm to protect his house and contracting business. In the days after the storm, he traveled the flooded streets in a secondhand canoe, passing on supplies and helping those he could.