Former Louisiana Congressman convicted of bribery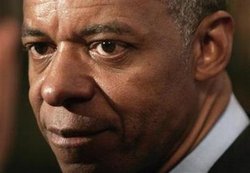 Former Louisiana Congressman William Jefferson was
convicted
Wednesday of 11 of 16 counts of bribery, racketeering and money laundering. The Times-Picayune has a
pdf
listing the corruption charges and verdicts from Jefferson's trial.
Jefferson, a Democrat who served nine terms in Congress, was first charged on 16 counts of bribery, racketeering, and violations of the Foreign Corrupt Practices Act back in 2007. According to the prosecutors, Jefferson used his congressional power between 2001 and 2005 to solicit and receive hundreds of thousands of dollars in bribes for himself and companies controlled by members of his family in exchange for business deals in West Africa.
As the Washington Post
reports
:
The verdict in U.S. District Court in Alexandria culminated an investigation that alternately fascinated and horrified much of official Washington. Jefferson is a former co-chairman of congressional caucuses on Nigeria and African trade who in 1990 became the first black congressman elected in Louisiana since Reconstruction. The low-key legislator burst into public view in 2005 when the FBI raided his home and found the cold cash wrapped in foil and stashed in Boca Burger and Pillsbury boxes.

During the 2005 raids to Jefferson's homes in New Orleans and Washington the FBI found $90,000 hidden in the freezer of his Washington home. The money was supposed to be a bribe for a telecommunications deal to Atiku Abubakar, the former Vice President of Nigeria.
Jefferson, 62, will be sentenced on October 30 and could spend the rest of his life behind bars under a sentence of up to 150 years in prison.