Immigrant detainees hunger strike over conditions in La. detention facility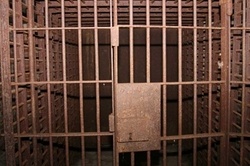 Immigrant detainees at a privately-run detention center in rural south Louisiana have waged a series of hunger strikes during the past four weeks to protest inhumane conditions and human rights violations at the jail.

Detainees have undertaken rotating 72-hour hunger strikes over the last month to protest conditions, Saket Soni, executive director of the New Orleans Workers' Center for Racial Justice, told the Associated Press. Detainees would strike for longer periods, Soni said, but they feared inadequate medical care and the placement of strikers in solitary confinement could lead to serious illnesses.

This past weekend the group of detainees began their fifth three-day hunger strike to protest poor conditions at the South Louisiana Correctional Center, a detention center in Basile, La. operated by the private contractor LCS Corrections Services Inc. and the U.S. Immigration and Customs Enforcement.

According to the New Orleans Workers' Center for Racial Justice, more than 100 detainees acted as human rights monitors inside the jail throughout July. "Over the course of a month, detainee human rights monitors recorded complaints, attempted to lodge hundreds of grievances, and communicated with advocates about jail conditions," said NOWCRJ, which released a report of their findings and the accounts of the several detainees.

Facing South has reported on the problems in U.S. immigrant detention. For the past year, reports of immigrant death, abuse, neglect, inhumane treatment, and inadequate health care in immigration custody have been surfacing across the country. Immigrant rights groups have criticized ICE's detention practices, which they say routinely violate the rights of detained immigrants.

Last week the National Immigration Law Center issued the first comprehensive report on abuses in the immigrant detention system, which holds about 30,000 on any given day and more than 300,000 a year. As Facing South reported, NILC found that ICE has been systematically violating its own minimum monitoring standards in regulating immigration detention centers across the country.

The NOWCRJ report underscores that the Basile facility is also in violation of several standards issued by the Department of Homeland Security for immigrant detainees. In fact, many of the poor conditions reported by Basile detainees are similar to those highlighted in the national report by NILC. Immigrants at the detention center in Basile have reported: lack of adequate medical care, even for serious ailments like leukemia, high blood pressure and asthma; lack of access to fundamental information, telephones, mail and legal materials; severe isolation; and an extreme scarcity and lack of access to personal hygiene products such as soap, toothpaste, toilet paper, underwear, clothing, bedding and towels. The NOWCRJ report also reveals an ongoing lack of responsible oversight by ICE.

In the NOWCRJ report, detainee Fausto Gonzalez discusses the unsanitary conditions:
It's not fit for a human being.
...
Inside the dormitory, everything is dirty. There are rats, mosquitoes, flies, and spiders inside the cell and inside the dorm. The ventilation is terrible. For people like me who have allergies and asthma, it affects us very much.

We have tried to complain about all of these problems, and we haven't gotten anywhere. They tell us, "It's a jail. This is how it is."
When ICE and other officials refused to consider their complaints, the Basile detainees launched hunger strikes. Several detainees have faced disciplinary retaliation for speaking out about human rights abuses and detention conditions, including being placed in isolation for days at a time. Since July 27, six men have been put in solitary confinement as a result of their hunger strike. The non-profit legal group, the Center for Constitutional Rights issued a statement last week saying, "Solitary confinement as retaliatory punishment for peaceful protest of conditions is unacceptable."

The NOWCRJ report contains testimony from several detainees, whose stories reveal a bleak portrait of life at the detention center:
"I have been in the custody of immigration for over a month. I still have not been able to speak with my family about where I am."
--Jorge Gomez:, detainee human rights monitor reporting on violations of ICE minimum standards governing telephone access.

"I am in [solitary confinement], under investigation for planning a hunger strike. I believe that they are going to keep me in the hole, [solitary confinement], until after Monday so that we do not have a hunger strike to expose and protest the bad conditions in this jail. When my legal representatives came to see me on Thursday no one notified me and they told them that I had refused to meet with them."
--Joaquin Lopez Pena, reporting on violations of ICE minimum standards governing disciplinary policy.

"I am preparing to die here in detention. I hope my body will provide testimony that the system needs to change."
--Juan Marin Corona, detainee and hunger striker in Basile, La. immigration detention center

"For about three weeks in May, the jail ran out of soap and toothpaste -- except in the commissary. If you did not have money you had to just bathe with water and no soap.

"These unsanitary conditions affect our mental and physical health. I developed a rash on my groin because of the lack of soap. When one person gets sick - a fever or cough - it spreads very quickly. We are not the strong, healthy men we were when we arrived."
--Edgar Bojorge Alcantara, detainee and hunger striker in Basile, La. immigration detention center

"Even though I was showing many symptoms, no one offered me any medical attention [...] I was so sick that I was delirious, vomiting, had no appetite, a strong head ache, fever, I was very cold, and I had a cold sweat. In my cell there are more than forty people who are sick. As far as I know, no one in my cell has had a blood test or any lab testing done."
--Edwin Dubon Gonzalez, detainee and hunger striker in Basile, La. immigration detention center

"We are not animals, and don't deserve to be treated like animals. We are human beings."
Fausto Gonzalez, detainee and hunger striker in Basile, La. immigration detention center
The detainees' fight for human rights at the detention center in Louisiana is part of a larger struggle by immigrants to protest inhumane detention conditions that violate human rights standards. As Facing South reported, poor conditions led to the riots in a Texas private prison in February. In June, immigrant advocates in Georgia protested the mounting number of immigrant deaths in ICE detention centers.

As the NOWCRJ report underscores, immigrant detainees at the Basile facility have turned their experiences into a "national flashpoint" for the debate on detention standards and human rights. Detainees plan to continue to monitor human rights conditions at Basile facility, and according to the report, they are asking DHS Secretary Janet Napolitano to not only investigate the facility and meet with detainees' to hear their grievances, but to ultimately shut down the Basile detention facility.

"We demand that Napolitano stop doing business with private jails that profit from our extended detention in inhumane conditions," Joaquin Ruiz, a detainee who served as a human rights monitor in the ICE detention facility, said in the report. "Napolitano says there is quality and accountability in ICE jails. She should spend a week in Basile, Louisiana."

The latest hunger strike follows the Obama administration's rejection of a federal court petition by former detainees, their families and advocates calling for legally enforceable standards for immigration detention. Despite the lack of action from the Obama administration, the recent reports have spurred Congressional action. Last week, calling for changes in the immigrant detentions system, Sens. Robert Menendez (D-NJ) and Kirsten Gillibrand (D-NY) introduced the Strong Standards Act (Safe Treatment, Avoiding Needless Deaths, and Abuse Reduction in the Detention System), a bill that would set minimum detention standards and require DHS to ensure that laws concerning the treatment of detainees are enforced. The bill would address a lot of the issues brought up in the recent reports by NILC and NOWCRJ.

The bill includes some of the following minimum requirements:
Given that detainees are not permitted to access outside medical care, the bill would ensure detainees receive adequate medical and mental health, and dental care, including comprehensive intake screenings
Restricts transfers of detainees to another facility if such transfer would impair an attorney-client relationship, prejudice the detainee's legal case, or negatively impact the detainee's health
Ensure detainees have adequate access to telephones
Prevent physical and sexual abuse of detainees
Limit the use of solitary confinement and strip searches to situations where it is necessary for security and eliminates the use of these techniques on children
Require detention facilities to be acquired in locations where free or low-cost legal representation is available
Provide adequate translation services to ensure the safety and security of the facility
Provide detainees with access legal information, including an on-site law library
Allow legal, family and religious visitors in detention facilities
Require that all personnel in detention facilities and short-term detention facilities receive comprehensive training
Require that detainees in short term facilities receive water, food, toiletries, access to bathrooms, and ensures protections for children in short-term detention