By Christian Smith-Socaris, Progressive States Network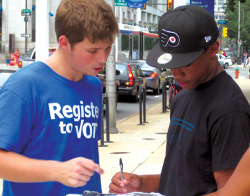 Just at the end of the legislative session, North Carolina lawmakers passed a bi-partisan bill that will allow 16 and 17-year-olds to pre-register to vote (H 908). This will facilitate youth registration at two highly convenient locations - in school and at the motor vehicles department when applying for a driver's license. Currently, the majority of voters register when conducting business at motor vehicle departments, and this change will extend that option to younger people as well. And in doing so it will link in young people's minds the rite of passage of getting a driver's license with that of registering to vote.

When signed by the governor, the state will join Hawaii and Florida in allowing for pre-registration. But in true North Carolina, pro-voter style they are coupling this reform with other important provisions - requiring schools to include voter registration information in the 10th grade civics curriculum, encouraging school boards to "adopt policies to promote voter registration," and including schools in the yearly voter registration drives conducted by local boards of election. Combining voting education with registration is a promising model, with students given the knowledge they need not just to register, but also to understand the importance and power of voting.

Of course, pro-voter legislation like this doesn't pass unless it has strong support at the grassroots and committed champions in the legislature. In this case the bill was sponsored by Rep. Tricia Cotham, the youngest Democrat in the General Assembly, and Rep. Justin Burr, the youngest Republican, along with Rep. Angela Bryant  and Rep. Pearl Burris-Floyd.  To create a broad coalition that demonstrated wide support for the bill FairVote NC and Democracy North Carolina solicited the endorsements of NC associations of principals, school boards, and teachers, as well as a variety of nonpartisan organizations, including Action for Children, Kids Voting, League of Women Voters, NAACP, NC Center for Voter Education, UNC Civic Education Consortium, and Youth Empowered Solutions.

Young Voters, Most Progressive in Generations

Helping engage young people in the political process is without a doubt a feel-good endeavor.  Evidence of this is the strong bipartisan support this legislation received, with legislators from both parties sponsoring the bill. But progressives should also know that this is a reform that will redound to our benefit as research shows that those under 35 (now referred to as "millenials," previously known as the echo-boomers) are the most progressive group since the 1960's. Interestingly, as the baby boomers aged they became more conservative, but their kids are now substantially more progressive then they were when they were young.

What this means for progressives is that efforts to engage the youth electorate is one of the most effective way to bring progressive-minded voters to the polls. It is in large part due to the engagement of this population that President Obama was able to win last November. And as progressive state legislators face a challenging mid-term election environment, keeping young people engaged will be key to cementing gains made in 2006 and 2008.