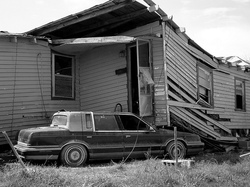 Facing South reported earlier this week on the housing crisis still unfolding along the Gulf Coast four years after Hurricanes Katrina and Rita -- a crisis that continues to slow post-hurricane recovery in the region.
Not only are rental costs and a lack of affordable housing preventing low- and moderate-income residents from recovering in New Orleans, but thousands of Gulf Coast residents are still struggling to rebuild their hurricane-damaged homes. 
Although progress has been made on many fronts in the last few years, the housing crisis in New Orleans and along the Gulf Coast continues to be one of the largest examples of failed federal and state policies to help the region's most vulnerable residents rebuild. 
Last week U.S. Rep. Maxine Waters (D-CA), held
congressional hearings
in New Orleans aimed at assessing the housing crisis in the recovering city. One of the hearings analyzed Louisiana's Road Home program, the hurricane-recovery iniative aimed at helping homeowners rebuild, featuring testimony from an array of experts, residents, lawmakers, and nonprofit and advocacy organizations. 
Waters, who chairs the House Subcommittee on Housing and Community Opportunity,
said
in a press release that the hearings were "quite telling in how far we still need to go to ensure that all homeowners who suffered terrible personal property losses during Hurricane Katrina -- coupled with the additional trauma of living through such a horrific storm -- can access a stable, quality and fair source of funds to fix or rebuild their homes." 
Road Home provides grants of up to $150,000 to homeowners with severe damage from hurricanes Katrina or Rita. To date the program has provided almost $8 billion dollars to some 125,000 homeowners. But as Facing South
reported
in the months following Katrina, the slow progress of the federal homeowner recovery program became one of the major barriers to rebuilding in the region. 
In the first year following Katrina, the Road Home program was heavily criticized by Gulf Coast advocates for its painfully slow delivery of financial assistance to homeowners. As the grants finally began to get distributed, residents and Gulf Coast advocates also pointed out that funds failed to meet the actual needs of homeowners. Low-income residents, in particular, also struggled with the constant
rule changes
and bureaucratic holdups in the program.
Several studies have found that Road Home grants -- because they are based on a home's pre-storm market value rather than rebuilding costs -- have not been enough for residents to repair and rebuild their homes. For instance, the average award has been just over $60,000, far lower than the amount of money needed to rebuild, according to Waters. 
A report
released last year
by the nonprofit research and advocacy organization PolicyLink found that in New Orleans four of every five Road Home recipients did not get enough money to cover their repairs. 
As PolicyLink explained this week on their
Equity Blog
: 
While community groups and local leaders have made enormous strides in rebuilding and reclaiming many neighborhoods throughout the Gulf Coast, federal and state aid programs -- most notably the Road Home program -- have failed to live up to their promise. 
...
In particular, the Road Home grant formula has had a more negative effect on those whose damage estimates were higher than their home value. Those whose damages were greater than their pre-storm home value -- 47.3% of all applicants rebuilding in place -- fell on average $69,000 short of the money they need to rebuild. This was a particular problem in low-income, predominantly black neighborhoods in New Orleans. More than 60 percent of households in New Orleans East and the Lower 9th Ward have gaps over $40,000, compared to 49 percent citywide and 33 percent statewide. The average rebuilding cost gap for those communities were $65,000 and $68,000, respectively -- a mammoth sum for low-income residents struggling to come home.
As Facing South mentioned, Road Home program rules permit grants based on a home's pre-storm value only. Since home values in most predominantly African-American neighborhoods are lower than the values of similar homes in white neighborhoods, black families, on average, get less Road Home money for a similar house. When it came to Road Home grants, African-American households had an almost 35 percent higher shortfall than white households. In fact, the racial disparities in grants led several Gulf Coast advocacy groups
to file a class action lawsuit
in 2008 against the U.S. Department of Housing and Urban Development and the Louisiana Recovery Authority charging that the Road Home program discriminated against African-American homeowners in New Orleans. 
"The disparities that exist for individuals seeking assistance to rebuild or repair their homes are unacceptable," said Waters in a
press release
. "It is high time to get serious and get beyond just talking about doing something to help these people: four years after Hurricane Katrina we still have individuals living in trailers, seeking additional benefits, dispersed throughout the country in unfamiliar cities, and disconnected from their families, friends, and their hometown."  
Earlier this year, Louisiana's Road Home program
stopped working
 with the Fairfax, Virginia-based ICF International, the company first hired to distribute federal Road Home rebuilding dollars. ICF had become known for its troublesome management of the Road Home program in the wake of Katrina, as well as for several abuses and scandals surrounding its employees. In fact the company has been blamed for many of the recovery program's earlier problems and holdups, and lawmakers have indicated that the state may bring a lawsuit against the company.
The Road Home program has made several changes in response to resident complaints over the years. As the Associated Press reported: 
The program, set up under the administration of former Gov. Kathleen Blanco, has undergone a series of modifications aimed at improving communication, service to residents and the process of appealing grant awards that were disputed by applicants. A new contractor is now managing it, but some residents and advocacy groups say problems persist.
At the hearing, Waters and Louisiana state recovery officials discussed ways to put the remaining $1.5 billion from the $10.3 billion Louisiana received from Congress for the Road Home program into the hands of thousands of people who have yet to finish rebuilding their damaged homes. 
Waters asked state officials to come up with a way to expedite more payments to homeowners, and she proposed that officials pay a flat additional payment to Road Home grant recipients to make up for the financing gaps experienced by most residents receiving grants. The Times-Picayune
reported
that a recent study found that the total gap between the true cost of rebuilding and the Road Home and insurance payments paid to 125,000 grant recipients is somewhere between $1.6 billion and $2.3 billion.   
Louisiana hurricane recovery chief Paul Rainwater said that the kind of plan Waters is proposing would require massive changes in the federal Stafford Act that governs disaster aid, something Louisiana has been requesting for years, reports the Times-Picayune. Rainwater did
announce
that the state plans to seek federal approval to use some $600 million of the left-over Road Home funds to address underpayments to 20,000 lower- and middle- income homeowners who have expended their grant funding and private insurance dollars but still can't cover the total cost of rebuilding.
Nevertheless, as the four-year aniversary washes ashore this weekend, thousands in New Orleans and along the Gulf Coast are stil waiting for the help they were promised years ago.