By Marcelo Ballvé,
New America Media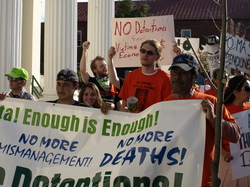 The recent hunger strikes at an immigration detention center in rural Louisiana highlight an issue advocates have struggled to bring to the public's attention for over a decade: poor conditions within the country's fast-growing immigration detention system, which houses over 31,000 detainees daily and 320,000 annually. 
Immigrant advocates fault Homeland Security Secretary Janet Napolitano for rejecting calls to strengthen immigrant detention standards, despite a number of lawyers and advocates' reports that create a picture of the detention system as a gulag into which detainees disappear to be shuttled from one far-flung substandard facility to another, in detriment to their health and due process rights. There also have been scores of immigrant detainee deaths, including several attributable to lack of medical attention like that last November of German-born Guido Newbrough at a Farmingville, Va., jail.
While a comprehensive immigration overhaul promised by President Obama appears delayed, advocates believe they may obtain results by criticizing the White House on specific issues like immigrant detention. 
"Napolitano has embraced the same misplaced and misguided priorities as the Bush administration," says Saket Soni, organizer with the New Orleans Center for Workers' Justice, who has been working with the Louisiana detainees. "The detainees' hunger strike flies in the face of the administration's assertion that no change is necessary in the immigration detention system." 
Many of the Louisiana detainees were picked up for immigration violations in distant parts of the country such as New York and North Carolina, but transferred by Immigration and Customs Enforcement (ICE) to the privately operated facility in Basile, La., some 200 miles northwest of New Orleans.
Housed in cellblocks planted in the middle of southwestern Louisiana rice country, the detainees found themselves isolated from lawyers and family. Some said they weren't receiving medical attention, despite suffering conditions like asthma, leukemia and diabetes. They also complained about lack of soap and toilet paper. In July, they staged five waves of three-day hunger strikes. 
Philip Miller, acting field office director in New Orleans for ICE, denied all these assertions. He said medical screening and provision of toiletries followed standards. 
"We are also reviewing how an updated phone system might be more helpful to the detainees," he added 
According to advocates, the problems in Louisiana can be traced to a lack of any legally enforceable standards regulating immigrant detention centers. The standards currently in place are little more than guidelines, and so lack the teeth to safeguard detainees' health and due process. 
Four-fifths of the country's immigrant detainees are held in some 350 privately run facilities (such as the South Louisiana Correctional Center) or state and local jails under contract with the federal government. Advocates say the outsourcing of immigrant detention means there's an urgent need for clear and forceful standards. 
Between 1998 and 2000, the American Bar Association (ABA) collaborated with the now-defunct Immigration and Naturalization Service, or INS, to create 36 standards for immigrant detention centers, governing areas such as contact with family, legal information, outdoor recreation and medical attention. The ABA lawyers urged the INS to adopt standards and rules that were binding and legally enforceable, but INS chose not to do so.
To a large degree, these standards remained in place until September 2008, near the end of President Bush's second term, when 41 "Performance Based National Detention Standards" were issued. According to a report published last month by the National Immigration Law Center, the new rules also "have not been issued as enforceable regulations." 
Advocates, frustrated by the lack of enforceable standards, thought they had a chance at winning them with the inauguration of President Barack Obama earlier this year. A court petition filed by Michael Wishnie, Yale University law professor, and Paromita Shah of the National Lawyer's Guild, asked the Obama administration to create binding standards. The petition was denied in a July 27 letter by Napolitano's deputy Jane Holl Lute, who argued current standards were sufficient. 
She also wrote, in defense of the current "performance based" standards, that several nongovernmental organizations, including the American Bar Association, had worked with ICE to develop them. 
The letter does not mention, however, that the association had asked for legally enforceable standards as early as the late 1990s. 
In a report issued July 28, based on 18,000 pages of previously unreleased documents pertaining to ICE's own reviews of its immigrant detention facilities, the National Immigration Law Center found "... widespread and severe violations" of the government's own standards for immigrant detention. These violations included facilities that didn't offer outdoor recreation, did not provide enough mail or phone contact with lawyers or family, and "failed to provide adequate medical screening of newly arriving detainees, thus placing their health, or even lives, at risk." 
"There's no question that the nation's immigrant detention system is broken to its core," the report says. It recommends not only legally enforceable standards and a halt to the immigrant detention system's growth, but also for alternatives to detention for immigrants. 
Advocates were encouraged when two U.S. senators took up the detention issue last week, introducing legislation July 30 that seeks to protect immigrant detainees from death and abuse by making detention standards the law. 
"Let's make it clear - a detention should never amount to a death sentence," said a statement from New Jersey Sen. Robert Menendez, the bill's co-sponsor, along with New York Sen. Kirsten Gillibrand. "These legislative initiatives will help reinforce what our great country has always stood for: liberty, the rule of law and basic human rights." 
"These two legislators recognized this particular issue needs to stand out," says Amy Gottlieb, director of the Immigrant Rights Program for the American Friends Service Committee in Newark, N.J., a state that contains seven immigration detention centers. "I feel there's a moment of opportunity to make a difference on the policy level." 
But even standards with legal teeth will need time to change the system. "There's so little accountability for ICE at this time, it's going to take a long time for the culture to change, even if we get regulations and statutes," she says.
Copyright © New America Media