By Jordan Flaherty,
The Louisiana Justice Institute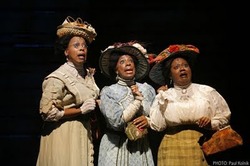 The touring production of the Broadway show
The Color Purple
, produced by Oprah Winfrey, has announced that they will be raising money for the
St. Bernard Project
. Of all the charities in the Gulf Coast to fundraise for, this seems to be an odd choice for the play, which is based on the legendary book by Alice Walker about southern Black women finding their strength. 
St Bernard Project works almost exclusively on rebuilding housing in St. Bernard Parish, despite
discriminatory housing laws
of the Parish that effectively keep Black families from living there. St. Bernard Project leadership have never spoken against these laws. By their actions, and silence, they have in fact supported the Parish's discriminatory policies. 
In the year after Katrina, St. Bernard Parish passed the notorious "blood relative ordinance," which barred single-family homeowners from renting to anyone except blood relatives without the special permission of the Parish Council. Since whites own nearly 93% of St. Bernard Parish owner-occupied housing, in most circumstances only whites would be able to rent most single-family housing in the Parish. This ordinance was a clear violation of the Fair Housing Act. 
In case anyone doubts
the intent of the laws and policy
of the parish, there has been extensive documentation of the intent. Last year, one of the only two members of the St Bernard parish council to vote against the ordinance
told reporter Lizzy Ratner
, "They don't want the blacks back... What they'd like to do now with Katrina is say, We'll wipe out all of them. They're not gonna say that out in the open, but how do you say? Actions speak louder than words. There's their action." 
In the
latest legal development
, on August 17, 2009, Judge Helen G. Berrigan granted GNOFHAC's and Provident Realty Advisors' second motion for contempt against St. Bernard Parish. Judge Berrigan writes that by "subverting the re-subdivision process" to prevent Provident Realty Advisors from moving forward on construction of four multi-family housing units, the actions of St. Bernard Parish are discriminatory against African Americans in both intent and effect.