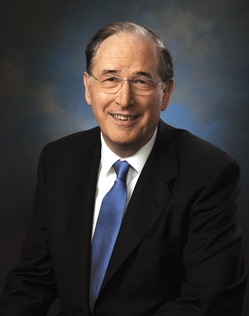 U.S. Sen. John D. "Jay" Rockefeller IV, a Democrat from West Virginia, plans to introduce an amendment today to the health reform bill currently being discussed in the Senate Finance Committee that would create a public insurance option -- a government-run insurance plan that would compete with private companies.
The public-option amendment, which is being co-sponsored by Sen. Charles Schumer (D-N.Y.), is expected to face stiff resistance in the committee, whose key members have been raking in contributions from lobbyists representing industries whose profits are at stake. But the two lawmakers say they will push ahead anyway in hopes of guiding the reform debate into a more progressive direction.
"True health care reform cannot be realized without a strong public insurance option that works for American families and I intend to offer this amendment in the Senate Finance Committee next week," Rockefeller, who chairs the Subcommittee on Health Care,
said
Friday. "The bottom line is we need a public insurance option because it will drive down private insurance costs and help make health insurance affordable."
The issue is critical for West Virginia, where the ranks of the uninsured are growing faster than the nation as a whole. About 271,000 West Virginians lacked health insurance coverage in 2008, according to a
Forbes report
based on recently released U.S. Census data. That's an increase of 6.7% -- far greater than the national increase for that period of about 1%.
Fighting for health insurance reform is nothing new for Sen. Rockefeller, who has long been a champion of changing how health care is paid for. After joining the U.S. Senate in 1985 following two terms as governor of West Virginia, where the New York-born heir to the family oil fortune settled while volunteering for the
VISTA federal anti-poverty program
in the 1960s, Rockefeller became a key congressional supporter of Bill and Hillary Clinton's health reform package.
But the Clinton reform plan was ultimately defeated by an alliance of business interests, many of whom are still fighting real reform today -- one reason why the United States is still the only wealthy industrialized nation that lacks a universal health care system.
Speaking last week to the Washington Times
, Sen. Schumer acknowledged that the public option is an "underdog" in the conservative-leaning Finance Committee chaired by Sen. Max Baucus (D-Mont.) but said he and Rockefeller would press ahead anyway:
"We're going to have a full-blown debate in the committee," Mr. Schumer said. "This is the starting gate, and we know that it will get better and better as we move on."

Rockefeller and Schumer are up against powerful interests that have a big financial stake in preserving the status quo.
A recent
San Francisco Chronicle analysis
of data from the nonprofit
Center for Responsive Politics
revealed that the three Republicans and three Democrats who are part of the committee's so-called "Gang of Six" that played a key role in shaping the Baucus bill got an average of $74,600 each from health industry lobbyists through June of this year -- about 25% more than the average of $59,632 received by their other Senate colleagues.
The analysis looked at contributions from lobbyists working for the drug, hospital, insurance and nursing home industries. The Gang's biggest recipient of money from those interests was Sen. Chuck Grassley (R-Iowa), the committee's ranking Republican, at $223,600, with Baucus coming in second at $141,000.
Baucus has
said
he intends to vote against including a public option, which he believes lacks the support necessary to pass the Senate.
As a consequence, the Montana Democrat is being targeted by progressive groups that support the public option. Two of them -- the
Progressive Change Campaign Committee
and
Democracy for America
-- are airing an ad this week in Montana and Washington that features a Montana father who racked up six-figure debt due to heart surgery he had to have while uninsured. No private company was willing to insure him.
"None of this debt would have piled up if I'd had the option of buying into a public health insurance plan," Bing Perrine says in the ad, which is
posted at PCCC's website
. "Private insurance companies need competition. They profit by denying care to people like me."
In addition, Democracy for America, a grassroots political organization founded by former Democratic National Committee Chair and physician Howard Dean, is collecting signatures on
an online petition calling for a public option
. They've already collected more than 86,000 names.
A critical swing vote in the committee is Republican Sen. Olympia Snowe of Maine, who has proposed creating a "trigger" for the public option to take effect in markets with too little private competition. Sen. Majority Leader Harry Reid has
called the trigger
a "pretty doggone good idea" but said his first choice remains a public option.
Reid's third choice -- one he says he's less than enthusiastic about -- is the nonprofit
health insurance cooperative
model being pushed by Baucus, which would allow consumers to start and run their own insurance companies. Progressives have been critical of the co-op proposal, questioning whether it would really do anything to drive down prices.
Nobel Prize-winning economist Paul Krugman has called co-ops "a sham" and pointed out that the stocks of health insurance companies soared on news that the Gang of Six was dropping the public plan in favor of co-ops.
"Clearly, investors believe that co-ops would offer little real competition to private insurers,"
Krugman wrote
recently in his New York Times column.
And as Sen. Rockefeller has noted, true reform ultimately means making health insurance affordable to those who need it.
(Official Senate photo of Sen. Rockefeller from his website)