Ever since Rep. Joe Wilson's Tourette's-like outburst of "you lie!" during President Obama's health care address last week, debate has swirled about the role of race in the incident.
Jimmy Carter himself said
he thought Rep. Wilson's rebuke was "based on racism," and here at Facing South we were among the first to point to the Congressman's checkered record on black/white relations -- such as his 1999 claim during South Carolina's confederate flag debate that "
the Confederate heritage is very honorable
."
But the focus on Wilson v. Obama alone misses another important -- and growing -- factor in the politics of race in South Carolina and the country: immigration.
It's no coincidence that the line in Obama's address that forced Wilson to his feet focused on whether the Democratic health bill would cover immigrants who aren't in the country legally. Rep. Wilson has been at the forefront of the nativist -- and at times openly xenophobic -- right-wing movement against not only undocumented immigrants, but immigration in general.
In many ways, the Palmetto State is ground zero for the immigration debate. According to a Facing South analysis of
U.S. Census data
,
South Carolina has had the fastest-growing Latino population in the entire country two years in a row.
That rapidly-changing racial reality is coming full-force against a deeply conservative political culture embodied by Rep. Joe Wilson. Wilson is a member of the House Immigration Reform Caucus, launched in 1999 by anti-immigrant spokesman ex-Rep. Tom Tancredo (R-CO). As
Political Research Associates reports
:
According to caucus member Rep. Tom Price (R-GA), the main goals of the congressional group are to combat the purportedly "explosive growth" in "illegal immigration" to the United States, reverse the growth of legal immigration, and halt efforts to provide what he calls a "mini-amnesty" for undocumented migrants.

From his perch at the caucus, Rep. Wilson has been a leader in pushing a right-wing nativist agenda.
Rep. Wilson has spearheaded legislation
to:
* Declare English as the official language of the U.S. (February 2007)
* Make government services available only in English (March 2008)
* In May 2004, he sponsored a bill to have undocumented people be reported to the police if they tried to receive emergency medical care.
Rep. Wilson has openly aligned with the most radical elements of the anti-immigrant movement. This includes the vigilante border patrol group the Minuteman Project, which has
been linked to extreme right and racist elements
.
Indeed, Rep. Wilson had been so supportive of Minuteman that there was a deep sense of betrayal when in 2005 Wilson
expressed mild reservations about "Operation Spotlight
," the group's plan to expand its vigilante activities beyond the Mexico-U.S. border to raid businesses suspected of hiring undocumented employees.
But the Minutemen PAC has put those quibbles aside over the last week, immediately sending out an appeal to defend the Congressman against "leftist attacks" for his interruption of the president. Here's a copy of the email appeal (h/t
Zack Ford
):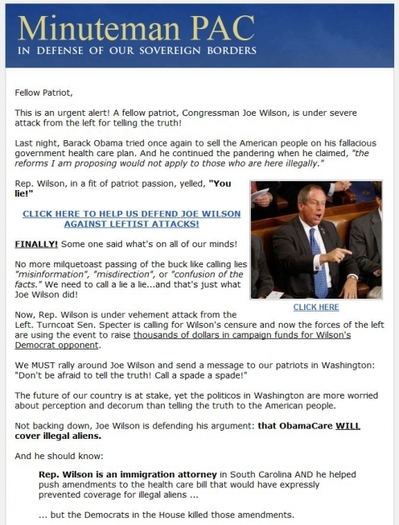 Other leading elements of the anti-immigrant movement have also swung behind Rep. Wilson. For example, as Stephanie Mencimer reporter in Mother Jones, the
Americans for Legal Immigration PAC has urged its members nation-wide to support Wilson
.
What does this all tell us? Racial politics are changing in the South -- especially in a state like South Carolina. And while Rep. Wilson's Obama outburst rightfully raised a discussion about the persistence of Old South mindsets, the incident shows how New South tensions over race and immigration threaten to be just as explosive.