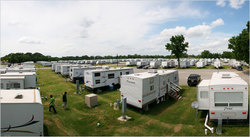 Jury selection begins this week for one of the first trials over toxic fumes found in trailers and mobile homes distributed by the Federal Federal Emergency Management Agency following Hurricanes Katrina and Rita.
To date, hundreds of consolidated lawsuits have been filed in federal court, arguing that residents who lived in FEMA trailers were exposed to elevated levels of the carcinogen formaldehyde, a chemical known to cause serious respiratory illnesses and cancer.
Facing South
has reported
on the dangerous formaldehyde-contaminated trailers provided to families in the Gulf Coast displaced by the 2005 hurricanes. Back in early 2006, independent tests conducted by the Sierra Club revealed dangerously high levels of formaldehyde in the FEMA trailers, but FEMA still did not take the matter seriously. FEMA downplayed and denied the problem for two years before testing occupied trailers, informing residents of the extent of formaldehyde problems and potential health threats, and finally confirming the high levels and moving people out of the trailers.
A
report
released last June by the Department of Homeland Security's Office of Inspector General confirmed that FEMA severely mismanaged reports of formaldehyde in the trailers, and failed to react quickly to respond to initial reports, endangering the health of thousands of people across the Gulf Coast.
The plaintiffs' lawyers in the new lawsuit charge that FEMA and the federal government were slow to respond to concerns about formaldehyde, jeopardizing residents' health, but the many of the suits may not be able to target FEMA directly because a judge ruled last month that a two-year statute of limitations bars claims against the government.
The suits do name the trailer manufacturers, however, citing that these companies provided FEMA with shoddy, substandard mobile homes when rushing to fill FEMA contracts following the 2005 hurricanes.
In this first case slated for trail this week, New Orleans resident Alana Alexander and her son, Christopher Cooper, are suing Indiana-based trailer maker Gulf Stream Coach Inc. and the federal contractor California-based Fluor Enterprises Inc.
As the AP
reports
:
Government tests on hundreds of trailers in Louisiana and Mississippi found formaldehyde levels that were, on average, about five times what people are exposed to in most modern homes. FEMA downplayed formaldehyde risks for months before those test results were announced in February 2008.

Alexander and Cooper, now 12 years old, moved into a FEMA travel trailer in May 2006 after Katrina damaged their home. Their suit claims formaldehyde fumes in the trailer aggravated Cooper's asthma and gave them itchy eyes and a burning sensation in their noses. They lived in the unit until December 2007, shortly after Alexander heard about formaldehyde concerns.

As the Courthouse News Service
reports
, even though FEMA and the federal government are not defendants in this trial, if the trailer manufacturers are found guilty of negligence, the verdict would raise questions, or at least illuminate, the federal government's decision-making and contracting process.
Following hurricanes Katrina and Rita, nearly 134,000 federal trailers housed storm victims. Most residents have since moved out of the trailers and mobile homes, though about 2,000 households in Louisiana and Mississippi remain in the trailers.