By Antonio Ramírez, (reprinted from
Wiretapmag.org
)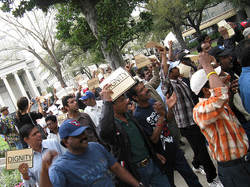 George W. Bush was working hard in the days after Hurricane Katrina.
In August 2005, we watched in horror as the Bush government left residents of New Orleans to fend for themselves against 175 mph winds and rising waters. However, over the following four years many of us were not watching as American construction companies lured thousands of Mexican, South American, Filipino, Indian and other foreigna workers to rebuild New Orleans. For four years, migrant workers have toiled in dangerous conditions for little or no pay.
Ironically, the former president -- criticized for doing too little as winds and water battered the Gulf Coast -- took swift action to create conditions that would make it easy for employers to abuse workers in post-Katrina New Orleans. Bush did his best to create a lawless working environment, permitting employers to rob and cheat workers out of wages on a massive scale.
And with President Bush's help, many employers did get away with it. Instead of responding to the unfolding humanitarian crisis and bodies in the streets, in the days following Katrina, Bush took direct steps to create an environment that would make access to cheap, foreign labor easy.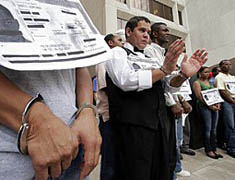 And with that, a manager -- too racist to hire black workers, stealing wages and fostering unsafe conditions for migrant workers -- sums up the toxic legacy the storm has had for workers in New Orleans and the U.S. And while much of the debris has been cleaned up, four years later, the mess created by the Bush Administration remains.