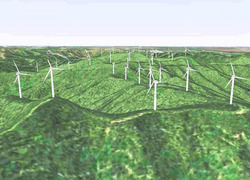 Massey Energy began mountaintop removal blasting operations on Coal River Mountain in southern West Virginia this past weekend, threatening the plans of environmentalists who want to build a wind farm on the site.
The environmentalists are
asking concerned citizens to contact President Obama
and ask him to use his influence with West Virginia Gov. Joe Manchin (D) to stop the destruction immediately.
"We're going to the mat on this one," Matt Wasson of
Appalachian Voices
tells Facing South. "This is the big one -- the line in the sand."
Three years ago,
Coal River Mountain Watch
and
Downstream Strategies
carried out a wind mapping project that demonstrated the mountain -- whose peaks are the tallest ever permitted for destruction in West Virginia -- was a good location for utility-scale wind power, with the potential to provide electricity to over 150,000 homes. Local residents rallied around
the proposed project
as a symbol of a more hopeful energy future.
But Massey's plans would destroy over 6,000 acres of the mountaintop and create 18 valley fills, devastating the Clear Fork watershed and rendering the site unsuitable for a wind farm. The blasting also threatens the integrity of the
Brushy Fork coal slurry impoundment
, a massive earthen dam holding back more than 8 billion gallons of toxic coal sludge. Massey Energy's own filings with the state estimate a minimum death toll of 988 people should the dam break.
Coal River Mountain Watch had recently begun working with Google Earth Outreach to design a presentation about the site and its wind potential that was to be shown at the United Nations Climate Conference in Copenhagen in December.
As Wasson writes at ILoveMountains.org
:
A 328 Megawatt wind farm versus a 6,000 acre mountaintop removal coal mine -- there could be no better symbol of the crossroads we are at in America's energy policy. Whichever way it goes, the fate of Coal River Mountain is America's energy future. If the coal companies can mine Coal River Mountain, they can do anything they want. If they can destroy these peaks, we'll know exactly what the effect that the billions in tax-payer giveaways to the coal industry will have if the climate bill is passed in its current form.

The operations on Coal River Mountain come as the Obama administration is taking a hard look at the environmental impact of mountaintop removal mining. Earlier this month, for example, the U.S. Environmental Protection Agency announced that it took steps to veto the Clean Water Act permit for what would be the largest mountaintop removal mine in West Virginia history,
reports
Ken Ward Jr. at the Charleston Gazette's Coal Tattoo blog.
The Obama administration also recently held a
series of hearings on mountaintop removal mining
that drew rowdy crowds of miners who shouted down their critics.
(Image from Coal River Mountain Watch shows an artist's conception of what the Coal River Wind Farm would look like.)