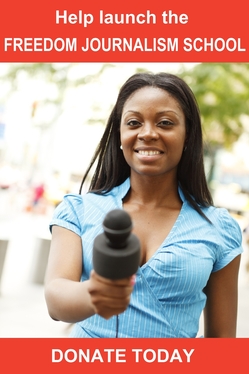 I want to tell you about a new Facing South project that I'm especially excited about -- and to ask for your help today in making it a BIG success: the Freedom Journalism School.Why are we launching the Freedom J School? To confront 3 big problems we face today:

1 - Big powerful interests are spending millions of dollars every day to stifle debate and block reform on health reform, climate change and other key issues we care about;

2 - Too often, the media lets them get away with it -- especially now, with reporter jobs and investigative budgets getting slashed;

3 - Bloggers and citizen journalists are valiantly trying to fill the media vacuum -- but they often lack the tools and resources for in-depth reporting we need to hold power accountable.

Our answer: the Freedom Journalism School -- a pioneering program to train an army of 50 new media muckrakers across the South!

Modeled on the Freedom Schools of the civil rights movement, Freedom J School will put our award-winning reporters to work training 50 bloggers and citizen journalists in hands-on investigative reporting skills -- tools they need to expose corruption and abuses of power.

But we can't do it without your help -- WE NEED YOUR SUPPORT NOW to launch this exciting experiment in grassroots, public interest journalism!

*** We're asking Facing South readers like you to donate $25, $50 or more today and become Charter Members of the Freedom Journalism School.

Your tax-deductible contribution today will make a big difference:

* Your gift of $25 will make you a Charter Member of the Freedom Journalism School.

* $50 will fund a scholarship covering all expenses for 1 grassroots blogger to attend the school.

* $100 will cover materials to train 10 grassroots new media journalists.

Please, make your gift today -- and build a team of freedom journalists who can change the South and country!

Thank you!

Chris

PS -- Go join the Freedom Journalism School's Facebook cause -- in just a few days over 130 people have signed up, you can help us keep the momentum going!