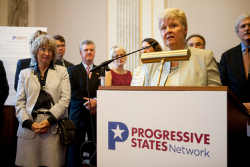 More than 100 Southern state lawmakers are among a group of more than 1,000 state legislators from all 50 states that have
signed letters
to Congress asking for the passage of comprehensive health care reform legislation, including the choice of a public health insurance plan, within the year.
According to the Progressive States Network
, a group representing state legislators across the country, there is growing broad-based state legislator support for reform. In fact, several of these state legislators and mayors plan to head to Washington, D.C. next week to take their message of reform directly to federal lawmakers.
Health care reform advocates see this as a timely voice of support. While conservative lawmakers continue to champion the idea of "state rights" in their opposition to federal health care reform, there is a sizable population of state legislatures who support reform that includes a government-run public health insurance option.
As the Progressive States Network
explains
:
State legislators have a unique and powerful voice to bring to the health care reform debate in DC. With the debate over health care reaching a critical juncture federal leaders need input from the state leaders who have been working for years to expand access to care, while reform has languished on Capitol Hill.

Below is the text of a
letter
signed by more than 957 legislators to Congress and President Obama:
Dear President Barack Obama, Speaker Nancy Pelosi, Senate Majority Leader Harry Reid, and Members of the 111th US Congress:

As leaders in state legislatures across the country, we urgently call on President Obama and the U.S. Congress to take up and pass comprehensive health care reform in 2009.

The serious problems with health care in America - ever-rising costs, limited access, inconsistent quality, and waste and inefficiency - converge in the states. The effects of these problems stress state budgets, exhaust family resources, result in lost worker productivity, stifle entrepreneurial spirit, and literally cause tens of thousands of deaths each year.

Our disjointed health care system has formed a choke-hold on our economy, limiting job growth and economic development. We cannot fix the economy without fixing health care.

Over the past decade, state legislatures have debated and implemented a myriad of reforms to bring affordability, quality and fairness to health care in America - designing solutions that reflect each state's unique economic, social, and geographic features. States play a vital role in the health care for hundreds of millions of Americans, by administering and helping to fund public programs like Medicaid and SCHIP, enacting innovations to expand access to public and private coverage, and serving as watchdogs of health insurance companies and other players.

Yet, states cannot achieve guaranteed affordable health care for all without the investment, leadership and partnership of the federal government. Successful reform requires robust federal-state collaboration.

Key priorities for reform are reflected in recent state initiatives and public opinion polls which show that Americans want more choices and options for quality health care. Americans recognize that the private sector alone has proven incapable of creating a high-quality, fair, and accountable health care system that works for all families. Therefore, a key priority for reform is the choice of a public health insurance plan that is available to businesses, individuals, and families. Another key priority is strengthening and expanding the Medicaid program with the help of enhanced federal support so that it can serve all low-income Americans. Related priorities include: guaranteeing affordability for individuals and businesses; preserving consumer choice of doctors; eliminating racial, ethnic, gender, and rural health disparities; ensuring shared responsibility among employers, individuals and government in financing health care; and, cost containment strategies that eliminate waste and inefficiency and improve quality, especially for people with chronic illnesses.

Failure to pass national comprehensive health reform now will further jeopardize state and local budgets, undermining public services like education, public safety, and transportation infrastructure. The recently passed economic recovery package includes a number of positive health care measures, but these do not remove states from the critical list. Achieving a high-performing, affordable and quality health care system for all US residents is central to a sustainable economic recovery and to the health and financial security of all families, businesses, and governments.

We, the undersigned, call on President Obama and the Congress to enact bold and comprehensive health care reform this year - based on these principles and a strong federal-state collaboration - and pledge our support as state legislators and allies in pursuit of guaranteed, high quality, affordable health care for all.
(Image from the Progressive States Network)