By Leticia Miranda, RaceWire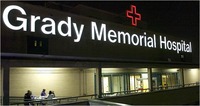 Since the beginning of the healthcare debate, Sarah Palin has publicly decried the
end-of-life option in healthcare reform as a "death panel."
She wrote about it on
Facebook
and recently went off about it in China. But what she doesn't know is that as she ranted in Hong Kong, a group of undocumented patients in Georgia had already gone up against the panel and, like many undocumented people before them looking for medical care, got some really, really hard news.
Grady Memorial Hospital in Atlanta, GA told 51 poor and undocumented patients in its outpatient dialysis clinic that they needed to leave at the end of September. Another 40 patients who have papers, but no money to afford treatment elsewhere, will be following them.
The Fulton County court
ordered for the hospital to be closed
saying they were not convinced that the patients, suffering from failing kidneys, had a constitutional right to the court's relief, leaving the patients and their families in devastation.
Senator Vincent Fort with the Grady Coalition Advocacy group put it frankly:
"People are talking about death panels. The real death panels occurred here at Grady, when people were told to go and die."
Grady, in closing its doors, leaves Atlanta without a hospital to treat low-income, poor and undocumented people who need dialysis. For patients without papers, Medicaid isn't an option and those who do have papers or have a green card haven't been approved. With Georgia having one of the highest rates of Medicaid application rejection in the country, the chances of them being approved any time soon look grim.
This leaves many of the undocumented patients thinking about what it might be like going back to their home countries where the treatment they need is often not available.
Ignacio Godinez Lopez, an [undocumented] immigrant from Mexico and a laid-off home remodeler, is worried that he may end up in the emergency room.

He knows he doesn't want to go back to Mexico.

"I know a man who moved to Mexico about a week ago and he cannot get his dialysis," he said.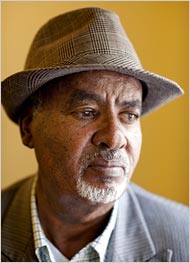 As hospital officials say they are buckling under the financial stress that comes with being a safety net hospital, some are criticizing Grady Board Chairman Pete Correll for boasting about the $280 million the corporation raised for the hospital then cutting the dialysis treatments for these patients.
Some members of the Fulton DeKalb Hospital Authority, which contracts with hospital's corporate board, are also taking issue with the closure. They're questioning whether the hospital is violating its contract by denying services to poor and undocumented people as stated in its mission.
So as lawyers gear up to take the decision to court again in a month, the story of Grady hospital might make you question whose lives are really being judged worthy or not by what kind of 'death panel'?
Tadesse A. Amdago (pictured left) told the New York Times that closing the clinic would have him "counting the days until I die."