By Jordan Flaherty, Justice Roars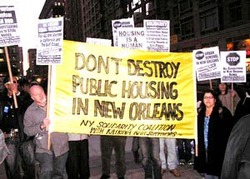 Is New Orleans' housing crisis a human rights violation?
United Nations Special Rapporteur on Housing
Raquel Rolnik will be in New Orleans this week gathering evidence. Local housing activists and national human rights advocates have arranged a town hall meeting this Friday for New Orleanians to speak up and be heard. 
Rolnik's visit is part of an
official mission
to the United States from October 22nd - November 8th. This will be the first-ever official country visit to the United States by a Special Rapporteur on Housing. The Special Rapporteur is appointed by the UN Human Rights Council to examine and report back on the housing situation of a given country. 
The visit will focus on public housing, Section 8, homelessness and the foreclosure crisis. The Rapporteur's office has selected Chicago, Los Angeles, New Orleans, New York, DC, Pine Ridge, South Dakota and Wilkes-Barre, Pennsylvania for site visits. The New Orleans visit will be a follow-up to the recent International Advisory Group on Forced Evictions (AGFE)
fact-finding mission
. 
NESRI's Human Right to Housing Program Director Tiffany Gardner comments, "Mrs. Rolnik's U.S. visit is profoundly important because it recognizes that Americans do have a human right to housing and that right is so deeply imperiled that it merits international monitoring at the moment." 
The meeting is this Friday, October 30th at 6:30 pm at St. Bernard Church, 3938 St. Bernard Ave. For more information, call 504 319 3300.