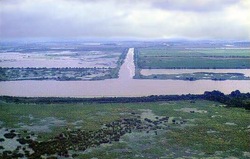 A federal judge ruled yesterday that the U.S. Army Corps of Engineers failed to properly maintain the Mississippi River-Gulf Outlet shipping channel in New Orleans -- a failure that was directly responsible for the devastating flood damage in the Lower 9th Ward and St. Bernard Parish after Hurricane Katrina.
The New Orleans Times-Picayune
reports
:
"The failure of the Corps to recognize the destruction that the MRGO had caused and the potential hazard that it created is clearly negligent on the part of the Corps," said U.S. District Judge Stanwood Duval Jr. in his ruling. "Furthermore, the Corps not only knew, but admitted by 1988, that the MRGO threatened human life ... and yet it did not act in time to prevent the catastrophic disaster that ensued with the onslaught of Hurricane Katrina."

Following a trial that
got underway in April
, the decision awards $719,000 in damages to four plaintiffs -- three individuals and a business --  who initially filed the lawsuit in 2006. There were initially six plaintiffs, but two of them -- WDSU TV anchor Norman Robinson and his wife -- were found to be not entitled to compensation because the damage in their eastern New Orleans neighborhood was not directly related to the MRGO.
However, the case has implications for people other than the plaintiffs,
according to the Christian Science Monitor
:
More important, the ruling ... now puts pressure on President Obama to help the region settle claims that could reach into the billions of dollars. (Without a court judgment, the Bush administration had refused calls for a settlement.)

The Justice Department is expected to appeal the decision to the 5th Circuit Court of Appeals -- and, if necessary, to the Supreme Court.
The Army Corps built the 76-mile-long MRGO in the 1960s as a shortcut for navigation between New Orleans and the Gulf of Mexico. The channel severely damaged tens of thousands of acres of wetlands that once protected vulnerably low-lying communities from storms, and it also acted as a funnel that intensified storm surges into the New Orleans area.
During the trial that led to yesterday's ruling, Louisiana geologist and former Corps consultant Sherwood Gagliano testified that the agency's failure to properly maintain the canal caused it to bump into Lake Borgne on the east city of New Orleans. When Katrina came ashore, the breach allowed waves from the lake to travel along the MRGO and hit the city's levees with a force that they were not designed to withstand.
Congress directed the Corps to develop a comprehensive plan to close the MRGO and restore the wetlands by May 2008, but the agency missed that deadline. The
Coalition to Close the MRGO
continues to demand action to protect the city from future disasters related to the channel.
(Image of the MRGO from Save Our Wetlands.)